Georgia Thompson and Her Luxe Resortwear Brand Evarae
21.06.2018 | Read
Meet Georgia Thompson of Evarae
We love celebrating strong, successful women here at The Caviar Spoon, which is why we've created ReBelles. These are the women who are working it and owning it in life, work, and everything in between. Our newest #ReBelleBoss is Georgia Thompson, founder and designer of luxury resortwear brand Evarae, which launched Spring/Summer 2017!
Our Caviar circle just keeps growing. Some of our favourite faces, places, and brands have been word-of-mouth discoveries from friends of The Caviar Spoon ReBelle. During a chat with Simon Blackford (you can read about his lifestyle concierge service Ellidore here) about our upcoming summer travel coverage and being on the prowl for fabulous emerging designers, he mentioned Georgia Thompson and her luxury resortwear brand Evarae as someone who might be up our alley.
I quickly pulled up the Evarae website and knew within seconds that Simon was spot-on with his suggestion.
The Caviar Spoon ReBelle team was right in the middle of planning our summer travel coverage of Saint-Tropez and Mykonos and we had been hunting for a fabulous swimwear and resortwear brand to complete our summer spread. Evarae was perfect – each piece I looked at was sophisticated, sexy, and feminine, with little details like metal work (yes, you read that right!) and delicate cutouts for a luxe touch.
Georgia's designs are thoughtful and intriguing, and have a sensibility that tells you they were made for women, by a woman. With some of the bigger names in swimwear, the collections can often feel uninspired or, worse, like they've been designed for the onlooker rather than the wearer. Georgia recognises that a woman who feels good will automatically look good.
Now that's a #rebelleboss way of thinking!
We can't wait to showcase her fab designs in some of the hottest (both literally and figuratively) summer locales! Keep reading for more about Georgia, how Evarae came about, and her thoughts on the highlights and learning lessons of starting your own business.
And don't forget to hop over to the Evarae site to do a bit of shopping – you'll absolutely love her collections!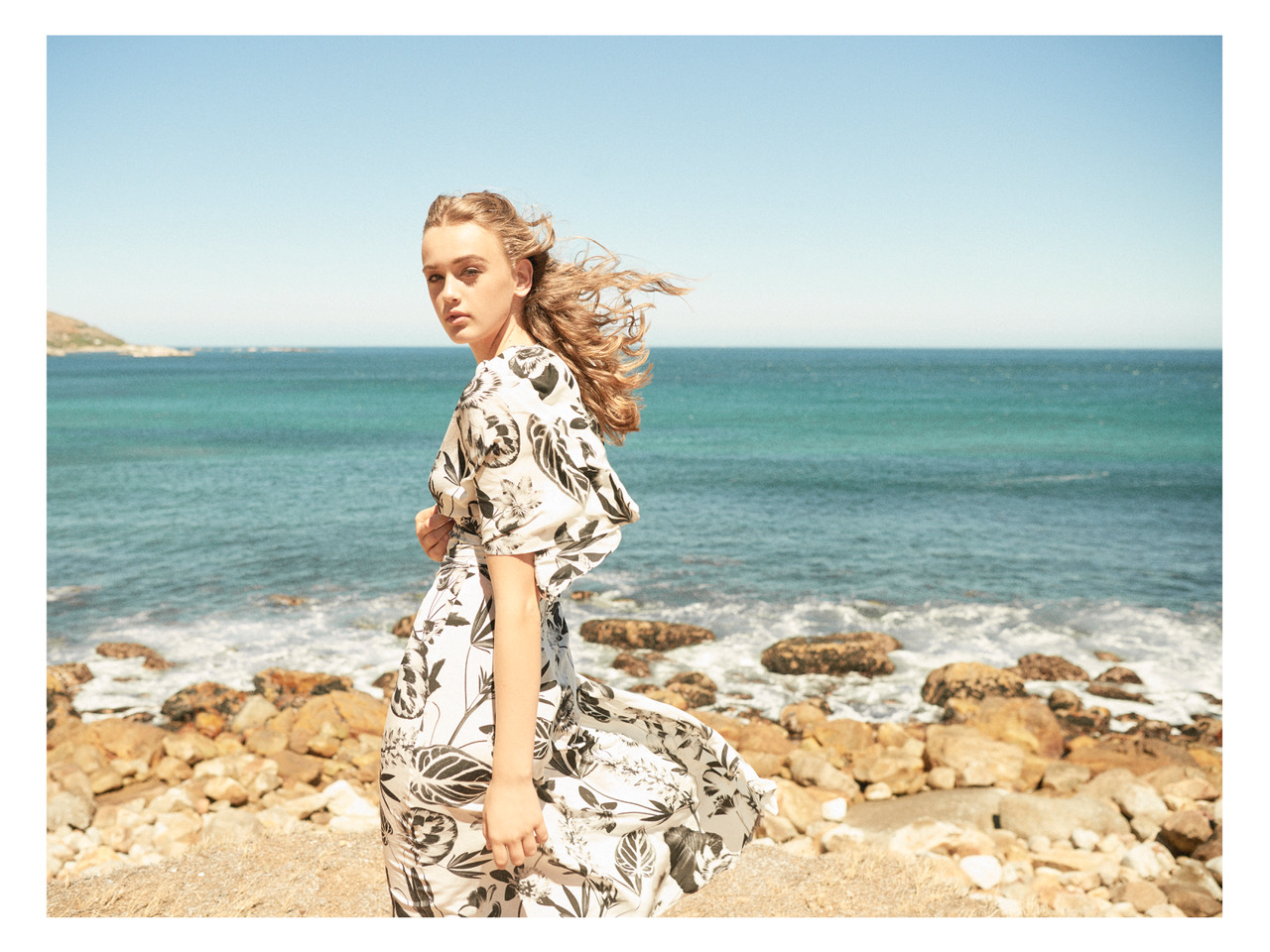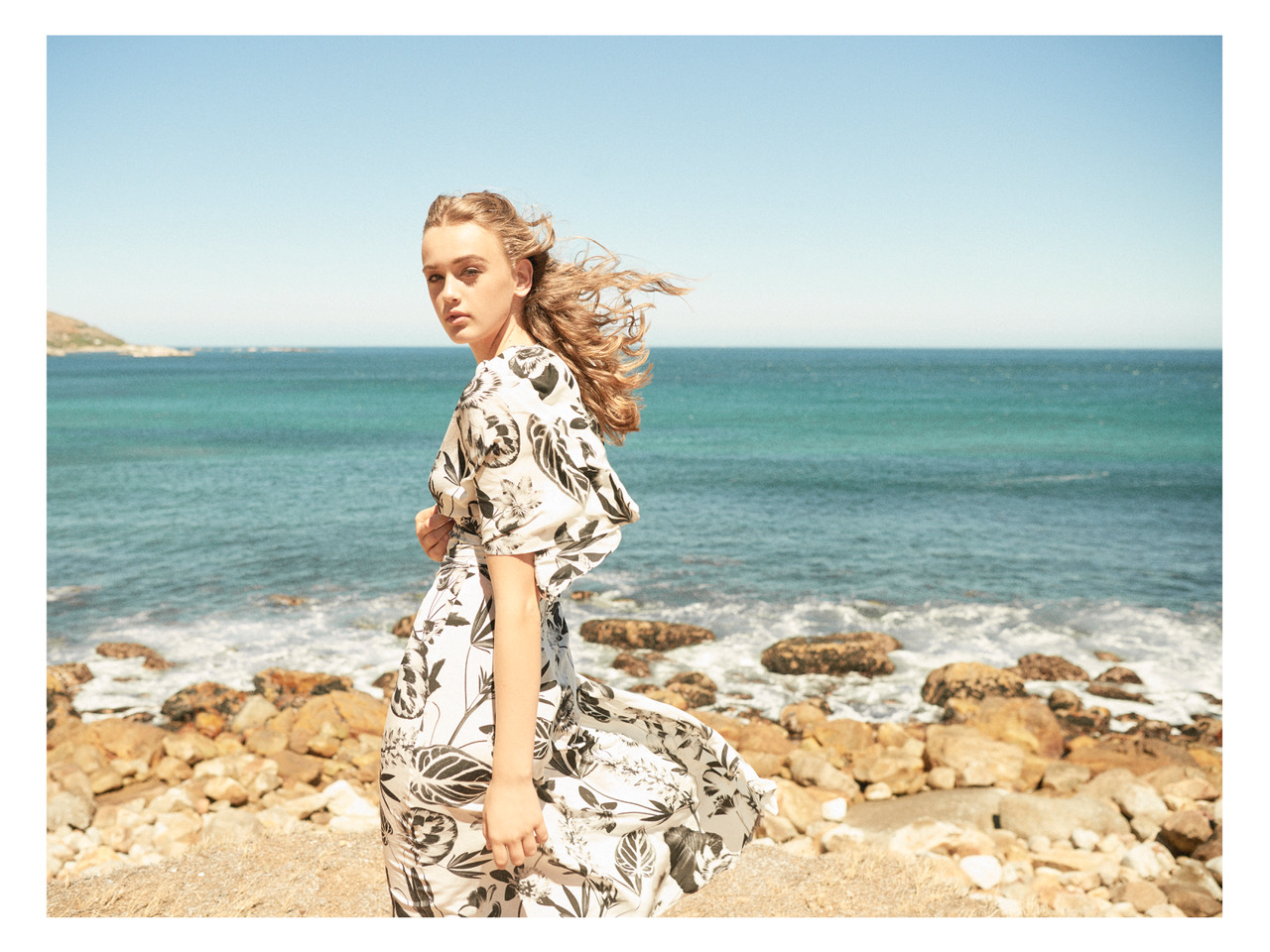 Q&A With Georgia Thompson
Please tell us about your career to date.
I come from a family of creative people. My stepfather is a yacht designer, travel has always been an inspiration, and I used to go on his research trips to faraway places as a child. Mixing design and travel seemed natural for me. I studied womenswear at Central Saint Martins, then worked for other brands and retailers for over ten years heading up design including swimwear and accessories.
When did you have your "AHA!" moment with your business concept?
While working for another swimwear brand, I creatively wanted to let the reigns go and push some boundaries with techniques, fabrics, and fit to the body. In my last role, I spent most of my time in management meetings. I missed being creative and it gave me the push I needed.
Who has inspired you the most in your journey and why?
I think my stepfather. He showed me it was possible to create something amazing from nothing. He had no formal training and has one of, if not the most, successful yacht design businesses in the market. He's completely self-taught and left school at 15.
What's been the biggest reward to date being a businesswoman and entrepreneur?
I think every time I see someone wear one of my pieces, I feel a massive sense of achievement. There have been bigger milestones but these are the ones that really hit home the most. Raising money from people that believe in me as an entrepreneur also gives me a massive sense of achievement.
And the biggest challenge?
By far it has been raising investment. It's strangely all about timing and it will only happen when all the pieces of the puzzle fit together. It's not about knowing someone with a lot of money. The relationship has to be there and then the timing for both parties.
What do you do to get inspired?
Everything is online now – apps, phones, etc. I try and take time to move off the phone and look for inspiration in other areas. Travel has and will always be where I find the most inspiration.
How do you measure success?
Most people would measure success with sales. However, I think when launching a luxury brand, which takes time, it's important to look at what you are accomplishing as a whole. I feel most proud when the new collection arrives and things look beautiful or seeing a campaign shoot come together as it was imagined in my head. These are also the most fun parts of running a business. Much time now is spent on actually running the company, operations, and logistics.
The biggest learning lesson since founding Evarae?
Everything costs twice what you think it will and money goes a lot quicker than you expect. Make sure you have a good cash flow model and a great accountant.
What advice would you give to women looking to succeed in the workplace or with their own business?
Believe in yourself. It's not easy – if it was, everyone would do it.
What makes the Evarae woman?
The Evarae woman is strong and contemporary. She believes in investment pieces, excellent quality, and fit to the body is really important to her.
Who are some style icons (past or present) you look to for inspiration or appreciation?
I love women that look effortless chic, as if it's so natural to them that they just get out of bed looking the way they do. Olivia Palermo is one woman I would love to see in Evarae.
What does your process look like, from concept to creation, when designing a new collection?
It's actually very organic. We have some clear timelines and usually it starts with research, textures, fabrics, details, a mood. I sketch ideas and then one of the designers will computer CAD my ideas expanding across other shapes. In swimwear it's important to balance and cover all body types when designing, so we design small collections. Within each collection, we make sure we have different styles for different body shapes. We also allow customers to buy mixing and matching tops and bottoms. So you aren't pushed into buying one size as a bikini set. This makes our range very versatile.
Which piece(s) in your collection are in constant rotation in your own closet?
The laser Cross Back One Piece from our core collection online. I was actually too scared to try this on for months as I thought it would be terribly unflattering on me. I put it on in the office one day with the girls before a trip and I was completely shocked to find that the cut of the suit as well as the trick on the eye that the laser fabric creates suits anyone including myself with a womanly figure. I also don't go away without the Halter Neck Dress from Spring 17. It's my go-to piece for any occasion dressed up or down and it's incredibly flattering and floaty in the heat.
You've said before that Evarae is for all women and body shapes. In your book, what is the number one rule for when it comes to dressing for your body?
Don't be scared to try things on you don't think will suit you! I think there is proof of that in the question above. Invest in quality and good fitting pieces that will last.
You hold Ibiza near and dear to your heart. Can you share some of your favourite spots around the island?
Oh, there are so many. Ibiza is so versatile depending on the season and your mood. I actually love Ibiza most when the island is quiet in low season. The vibe is completely different to July or August, for instance. For the off-season, I like to have Sunday lunch at La Escollera – don't be fooled by low season, you will need to book on a Sunday. La Paloma is a great place for lunch or dinner – it's vegan and the salads are from another planet. I like to walk our family dogs every morning when in Ibiza, then sit in the garden and do some work taking in the view.
For high season I love Sunset Ashram for the evening. I also like hiring a catamaran for the day to [the island of] Formentera and having lunch at Beso Beach. For the nightlife, I head to an old favourite like KM5 for some of the best cocktails, steak, or sushi on the island. Occasionally, I like to go to ANTS at Ushuaïa for the house music; however, those days are less and less now! I prefer a spa day at Atzaro or Nobu Ibiza Bay Hotel. I also love cocktails at the rooftop ME Hotel bar.
Lastly, my favourite place on the island is AMANTE for dinner or one of their outdoor cinema nights. There is simply nowhere like it.
In 24 months' time, Evarae will look like this…
Evarae will be one of the leading international swimwear brands on the market ;))))
When the going gets tough, you…
Take a five-minute break and have a cuddle with my French Bulldog Lola. Then get back to it quickly.
What's your one piece of advice on how to achieve a good work/life balance?
Learn to take breaks and release some control in certain areas. It's less efficient to be thinly spread in all areas.
What do you do to unwind, refresh, and recharge?
Travel. I also love fresh air and the outdoors – walking the dog also helps. I also do some of my best creative thinking while having a massage. I know that's probably counterproductive but my mind seems to unwind.
3 words to describe your clientele
Elegant, contemporary, adventurous
3 words to describe you (as an individual or as a brand)
Evarae is the same as above: elegant, contemporary, adventurous
One woman in business who deserves a shout-out…And why?
My childhood best friend Hana Hakim founder of The Stella Collective. The most stunning interior design firm based in Melbourne. The woman is fearless and has gone after her dream with full force.
Your motivational quote
If it was easy, everyone would do it.
Your business mantra
Surround yourself with people that bring out the creative in you.
Connect