Rebel Waite
22.01.2020 | Read
Meet Alex
We love celebrating strong, successful humans here at The Caviar Spoon. These are the women and men who are working it and owning it in life, work, and everything in between. Our newest #rebelleboss is Alex Waite, of Rebel Waite fashion label. Not only is it refreshing to share inspirational insights into the highs (and sometimes lows) of business but it's an ideal way to find brands to collaborate with. Want to find out more about the brain behind the brand? Then read on…
Q&A With Alex
When did the AHA moment happen?
My real AHA moment happened about 3 years ago when I first launched Rebel Waite, I started with only two styles in a very small run and was stocked in a boutique I used to work at. I loved working on the shop floor and having that face to face interaction with my customers. What I learnt was invaluable. But after my very first two styles flew out the door I knew then and there I was onto something and I had to keep moving forward and grow the brand. It was the biggest AHA moment I could have wished for.
Competition is fierce – how do you keep the edge?
There are a lot of brands out there and the market does seem more saturated than ever. I like to think that we keep our edge by making products that are built to last and withstand the test of time. We are not about fast fashion or throw away trends. Our core values are making shirts using the best fabrics and focusing on the fit. When we design a new shirt, we have our customer in mind.
If you could turn back the clock to when you started out, what's one thing you would change immediately?
I would have gotten help sooner. I have a great team of girls working for me and we have grown so much as a company. When I started out, I took on and did too much myself. You need to have the right people working with you to help grow. Definitely a lesson learned and would have changed from the start.
Proudest moment/achievement so far?
Seeing my shirts on customers, and knowing I have repeat customers is a great achievement for me. I feel very proud when customer's really love the shirts because, I love the brand and the products so much.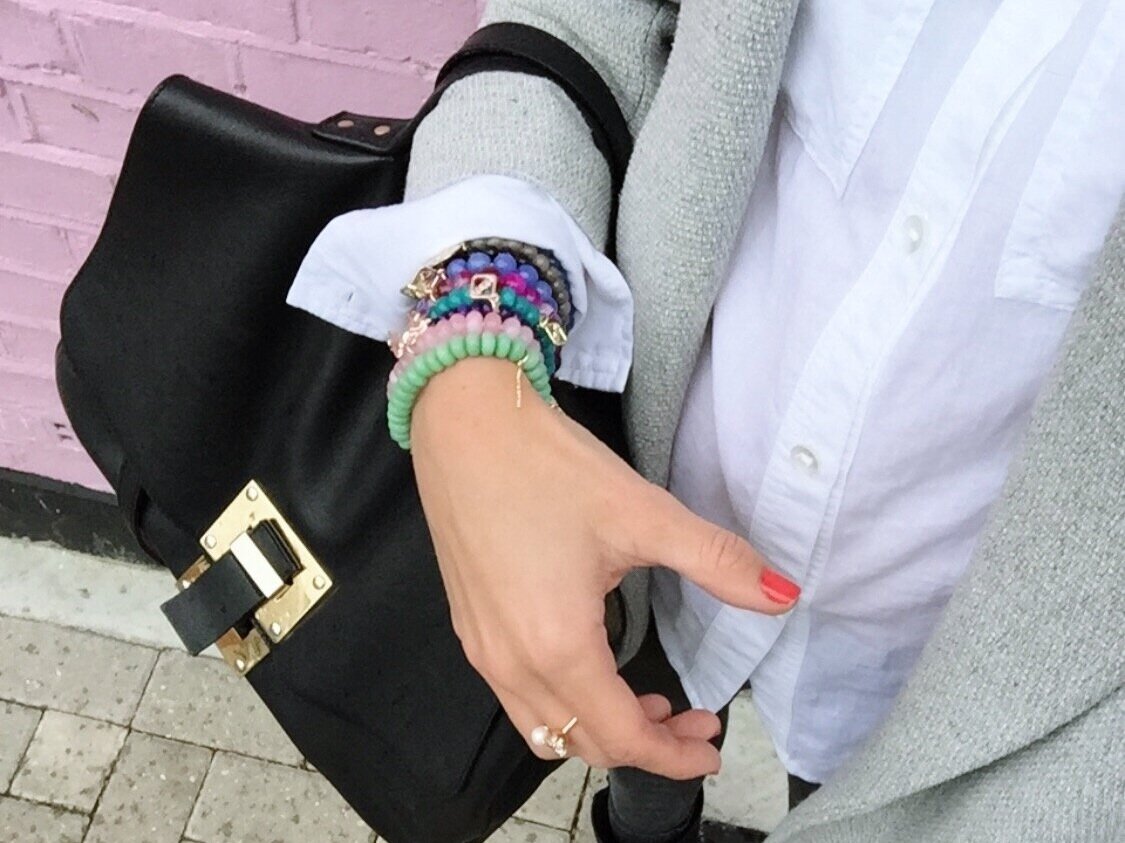 Has fear stopped you from trying out an idea where you ended up missing an opportunity? If so, what was it and how did you overcome?
You have to be your own cheerleader and have self-belief when starting a business. It is very easy to be stopped by fear and have self-doubt. There is so much that can go wrong but believe in yourself and your product and keep pushing forward. I have definitely had my setbacks along the way, but you have to overcome those and be persistant.
One time someone said you couldn't do something and you proved them wrong?
Taking the leap and going out on my own.
What are your tricks for calming nerves and maintaining focus before a big moment?
I thrive on adrenaline and work better under pressure. So, for me I like to be amongst the chaos as much as possible. However, if I feel like I need to take a moment for myself to really switch off I'll go for a long walk or I'll workout.
The best tip in juggling workloads?
I write lists, probably too many! But it's the only way for me to know exactly what needs to be done. There are many moving parts to running a fashion brand and it's hard to keep on top of juggling everything. It is also overwhelming if you don't break it down and share the workload.
What's one thing you wish people knew or understood about your world?
Running a business is no small fete, it is stressful and manic and all-consuming at times but I don't have my own world. I guess being creative comes from a place that is hard to sometimes put into words. I think you either understand it or you don't.
What would your Billboard say (your personal life mantra quote)?
Without sounding like a total cliché – my life mantra is very much about surrounding yourself with the right kind of people. For me – that is about being around people that have positive energy and positive vibes.
Best book or podcast?
A podcast I was told to listen to recently was 'Feel better, Live more' with Dr Chatterjee, I find it relaxing and helps de clutter my mind and switch off when I listen to a good podcast. Also, meditation is something I am wanting to try and do more of.
Best social media app or tip that has helped you?
The best social media app would have to be Instagram. Instagram has completely transformed how we connect with people and brands. It is also a great selling platform. The reach and potential are huge, especially for networking and collaborations. I also really love the app Lightroom and VSCO for editing pictures.
Tell us about your ideal collaboration – what would it look like?
My ideal collaboration would be with women who really love the brand and our product. I would love to collaborate with a broad range of women whose lifestyles reflect the brand. A collaboration needs to be authentic, in the sense that whoever you chose to represent your brand actually needs to like what they are wearing. So my ideal collaboration would be to have women who just love our shirts. As if it would be their go to piece on a regular basis.
Connect