Tranquil Urban Retreat: Hotel Skeppsholmen in Stockholm
25.04.2018 | Read
Meet Hotel Skeppsholmen
After such a great experience at Miss Clara Hotel in Stockholm, for our next visit, we decided to "keep it within the family" by staying at Hotel Skeppsholmen. Both are part of the reputable Nobis Hospitality Group and tick off all our boxes for top-notch service and staff and fab minimalist design…but that's where the similarities end.
(You can read more about Miss Clara here.)
Hotel Skeppsholmen is an award-winning, eco-friendly hotel that offers convenience (an easy 10-minute walk brings you to the city centre) with the peacefulness of a setting seemingly much more rural. This urban getaway is located on tiny but stunning Skeppsholmen Island, right next to Gamla Stan (our favourite for a Dickensian vibe), with the most beautiful waterfront views.
As I walked around, I could hear everything from the ice cracking on the water, to the crunch of the snow and gravel under my feet. Like out of a movie, birds chirped along with the tolling of bells in the distance. There was literally a Kodak Moment every few steps and from all different angles. This is the kind of place where you pull on a jumper and boots (if it's winter) and wander around for some peace and quiet and fresh air.
The island itself has a long history. The buildings in which the hotel is housed were originally built for the Royal Marines in the early 1700s but they have been reincarnated several times over, from a hospice for plague-ridden patients to Navy offices and storehouses before becoming government listed historic buildings.
The group sensitively restored the buildings and made most of the changes reversible so they could be returned to their original state at any point in time.
Nobis Group entailed the help of design team Claesson Koivisto Rune and Erséus Architects and after six years of careful TLC, Hotel Skeppsholmen opened in 2009.
The entire island has evolved into a kind of artsy haven, with a number of museums such as the Museum of Modern Art (or Moderna Museet), the Architecture Museum (ArkDes), and The Museum of Far Eastern Antiquities (Östasiatiska Museet), not to mention the Royal Institute of Art. Skeppsholmen isn't a large island by any means but you can see that it's chockablock with arts and culture!
Style & Service
Designers Claesson Koivisto Rune did an amazing job of respecting the original structure whilst blending in a warm, minimalistic style that makes the entire hotel stylish and inviting. Given its history, they could have easily gone down the route of making it all very traditional but instead, they turned Hotel Skeppsholmen into an urban oasis – cool, calm, tranquil, and the perfect retreat for visitors who want to remain close to the centre of Stockholm but not necessarily stay in the thick of it!
Take, for example, the reception area. Hotel Skeppsholmen gets it right with dim lighting, crisp lines, and iMac monitors, creating a hip understated vibe that makes you feel welcome from the very second you walk in through their doors.
The design throughout the entire hotel is just delectable. Wooden floors, modern furniture, flattering lighting, and a curated collection of books and magazines scattered here and there. In the restaurant, artwork by local artists is displayed on a 3-4 month rotation, with current talent including Carl Thorborg, Elin Sandström, and Sören Christensen. The hotel also sells pieces from Strömdahls Juveler, which is Sweden's oldest jewellery brand dating back to 1904.
The aesthetic looks like everything was effortlessly thrown together but in reality, you know each item and detail was carefully planned and selected. In the lounge, there was a cactus sitting next to some chunky candles on the windowsill, which would seem an awkward combination in any other setting, but it just somehow worked here.
When I asked Front Office Manager Jessica Hansen about the types of guests they usually see, she described them as people who are well-travelled and love uniqueness and experiencing a local touch. Year round, the hotel welcomes families visiting Stockholm in the summer for a week, business travellers, staycationers, and those on quick weekend getaways.
The staff here were phenomenal (which seems to be the M.O. of Nobis Group). Each person I encountered, from Jessica to the servers at the restaurant, was impeccably mannered and fit right into the hotel's unique vibe. They were also well-dressed, with the ladies in kitsch cosy grey cardigans and the gentlemen in jackets, instead of the usual stiff corporate wear.
Boudoir
There are 77 rooms at Hotel Skeppsholmen, ranging from Standard (which, at 14-16 sqm, are the cosy and authentic size of the rooms going all the way back to 1699) all the way up to the Officer's Suite, a sprawling 64 sqm with a living room and a walk-in closet.
All of the rooms are wonderfully Scandic with light wood floors, simply designed furniture, and personal touches that add an extra level of warmth, such as soft throws and thoughtfully placed lamps. Everything is wonderfully minimalist – not a drawer knob or handle in sight! All of the doors slide open (like at Miss Clara) and there is nothing unnecessary in the design. I settled into one of their four Junior Suites for my few days in Stockholm and it was the absolute perfect choice of space.
I caught the lift to the upper floor of the hotel and found myself in a wide hallway with an attic ceiling and the glow of a lamp in one corner. As I entered my suite, I let out a sigh of appreciation at the amount of space and the sheer cosiness of it all.
The door opened into a living room with a mid-century modern vibe. Two chairs sat angled towards the window, with a small side table in between with three art and design magazines (Icon, Form, and Res) carefully laid out on top. The wide windowsill held a single glass lamp with a filament bulb that tricked me into thinking it was a candle for a split second!
On the other end of the room was a large white armoire which opened up to reveal a safe, snacks, a couple of mini bottles of The Long Little Dog, and a box labeled "Bread & Boxers". Curious, I pulled out a little card and discovered that it was undergarments, which could be paid for at reception, should I have found myself in need of them. Cute and clever! How many times have we been travelling around in a whirlwind only to realise we miscalculated the amount of clothing to bring or, worse, had a piece of luggage go missing? The little things like this are what really separate the ho-hum hotels from the memorable ones.
In the bedroom, a king size bed with soft white linens and a dark wood headboard awaited me. There was a pair of photographs hanging on the wall behind the bed and a simple white branch hanging on the other wall which, in Hotel Skeppsholmen's eco-friendly modern design theme, seemed just right.
A flatscreen TV sat quietly in one corner, overshadowed by the large window looking out towards the water, with a wide desk and comfy chair in front of it. The desk held the standard stationary, a lovely little bud vase, plus a box of caramels made locally by Pärlans Konfektyr. (If you know someone with a sweet tooth, this would make a fab gift to bring home, by the way!) From the perspective of someone who was here for business, this desk brought on some inspiration and it would be an ideal place to work should you need to. If you're here on holiday, the just forget the desk and chill out in the living room!
The bathroom was stocked with Byredo products and a branded bathrobe and there was a lovely illuminated rain shower. But one of the most interesting features here was the Boffi design basin. The only way to describe it is a flat white surface with a large white "stone" in the centre, hiding the drain from sight.
The only downside was not having the usual counter space for setting out makeup and toiletries but the ledge along the mirror did the trick.
Overall, though, I felt completely relaxed and at home here and it was fab to experience staying in a more off-the-beaten-track location as opposed to my previous stays in Stockholm. After full days spent running between meetings around the city, I looked forward to retreating to Skeppsholmen Island and unwinding in my suite for the rest of the night.
Nibble
Långa Raden serves contemporary Swedish cuisine using mostly local ingredients from environmentally-friendly producers and the menu changes seasonally. The restaurant is quite popular with locals, known especially for its breakfast, and Executive Chef Tomas Engberg and his team of ten keep things running smoothly for the bustling crowd. Behind the scenes, you'll also find Magnus Johansson, who has been with the hotel almost from the beginning, first as the Executive Chef and now as Deputy General Manager and the head of gastronomy.
The breakfast feels like they're simply cooking for a big family. There are no queues or hectic clanging with servers running around delivering plates of eggs and refilling coffees. It's well laid out with a fab selection of breakfast items, from porridge to breads to yoghurt. Personally, I couldn't get enough of the fruit salad and I loved the ambiance of having scrambled eggs by candlelight, waiting for the sun to lazily come up.
Supper was refreshingly simple with a menu full of traditional Swedish dishes and flavours but all with Långa Raden's own personal touch. I tried the potato dumplings with roe, which were the perfect remedy for a chilly Stockholm evening. The lunch and dinner menu are the same and you can indulge in dishes like lobster soup or their classic shrimp sandwich if you like seafood. Should you prefer something heartier, there's black pudding or meatballs in cream sauce and let's not forget apple crumble pie for dessert! (That's what the long walks are for, right??)
By day, the dining room is bright and cheery, with light streaming in and highlighting the various woods used for the flooring, tables, and chairs. Come sundown, the mood gets more intimate, with candles on the tables and dim lights overhead.
Quaff
If you're in the mood to chill with some friends or just unwind from your day, head to the lounge area at the end of the restaurant for a cool vibe! Over the weekend, it was filled with locals warming themselves up after having walked around the island. I chatted with one or two of them and they said that it's just not the kind of place you could walk past without stopping in.
There's gorgeous lighting here, accompanied by just the right amount of candles to give it that "at home" vibe. You'll also have plenty of reading material with a curated selection of books and papers, all falling into the realm of art/design/architecture/culture. Whether you're craving hot chocolate or wine, you'll find yourself settling in here for some fab people-watching accompanied by one of the best downtempo hotel soundtracks I've heard to date with music from artists such as José González and Alina Baraz.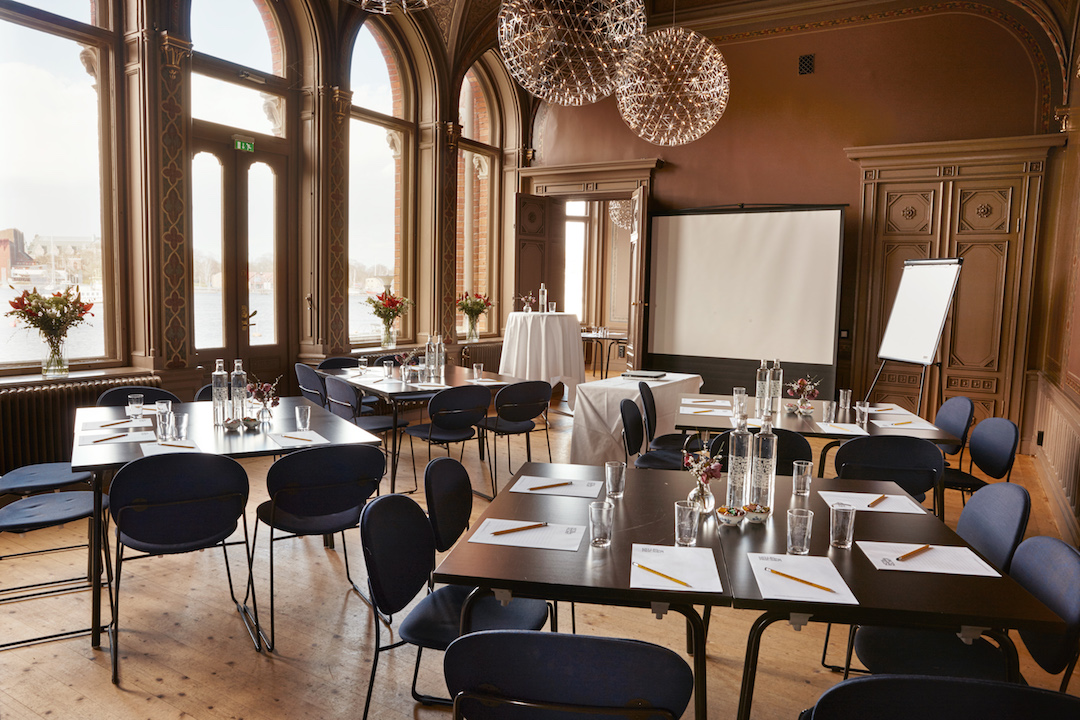 Good To Know
If you're not familiar with Stockholm, don't be turned off by the fact that the hotel is on an island. You're still incredibly centralised and can get around easily by foot…just make sure you choose the right shoes. Or, at the very least, don't wear a brand new pair of boots that haven't been broken in yet.

There are some excellent meeting facilities here, including Skridskopaviljongen, or the Skating Pavilion, which is next to the hotel. It's a historic venue that dates back to 1882 when it was built by the Royal Skating Club and the Royal Swedish Yacht Club and was used as a gathering place for members of the Royal Court and high society to enjoy some hot cocoa in between skating on the bay.
For a #CaviarMoment:
Hotel Skeppsholmen would be, without a doubt, a weekend gathering point. Long Sunday lunch? Hot chocolate after a brisk walk? Some wine with friends in a chilled setting? It's all here, winter or summer.
Disclaimer: The Caviar Spoon was hosted by Hotel Skeppsholmen but all opinions expressed are our own.
Connect
Gröna Gången 1, Box 1616, 111 86, Stockholm