THE CAVIAR TRAVEL GUIDE TO THE BEST OF SRI LANKA (PART 1)
20.04.2017 | Read
The Travel Plan
Sri Lanka is in the travel spotlight these days and we're here to tell you that it's totally and completely well-deserved. We visited this beautiful island country at the beginning of this year and were blown away by the people, the culture, the natural beauty, and how history and modern day have moulded together to form something completely unique.
Covering the 4 P's (pillows, purity, plates, people), we've put together a guide to some of the best and most interesting people and places dotted across the country—some you'll find mentioned in guidebooks time and time again, others are a bit more under the radar but equally, if not even more, fascinating.
In Part 1, we cover Colombo, Ulpotha (Kurunegala), and Kandy. If you're curious about Ella, Gurupokuna, or Galle, look for Part 2 of our Sri Lanka travel guide!
Distance Travelled:
Colombo to Ulpotha: 165 km
Ulpotha to Kandy, via Dambulla: 160 km
Total mileage for first half of the trip: 325 km
If you need a visual on where all of the below places are located, scroll to the end where we've included a handy map!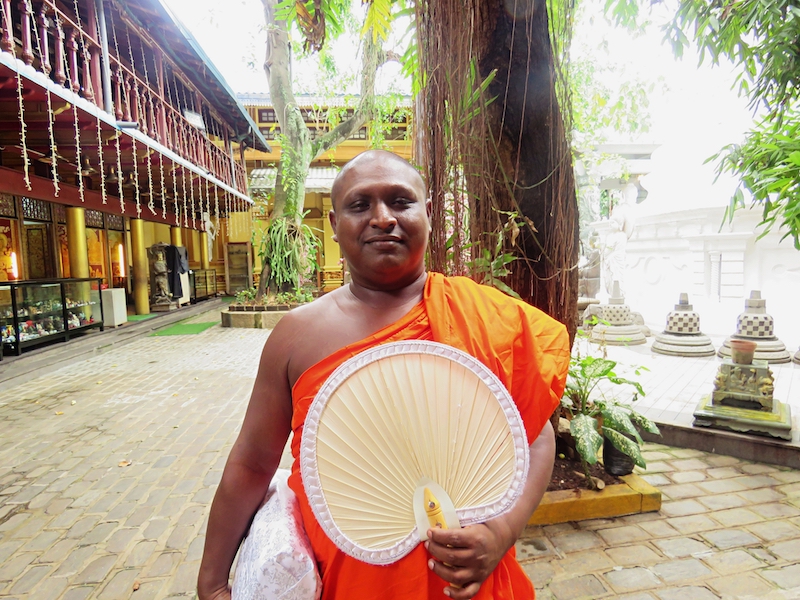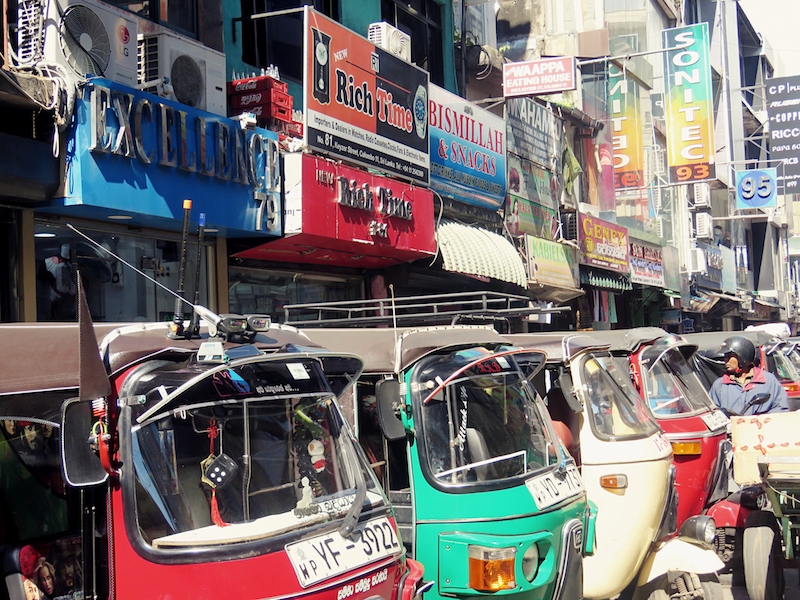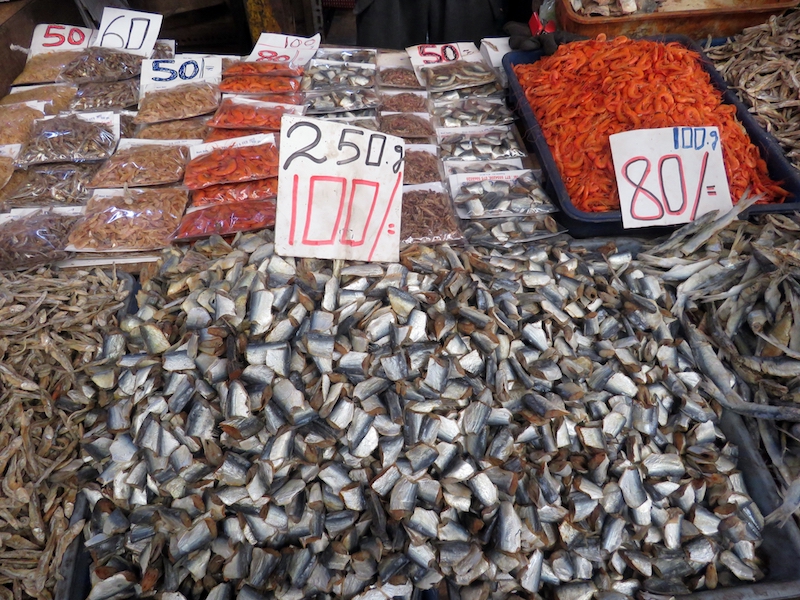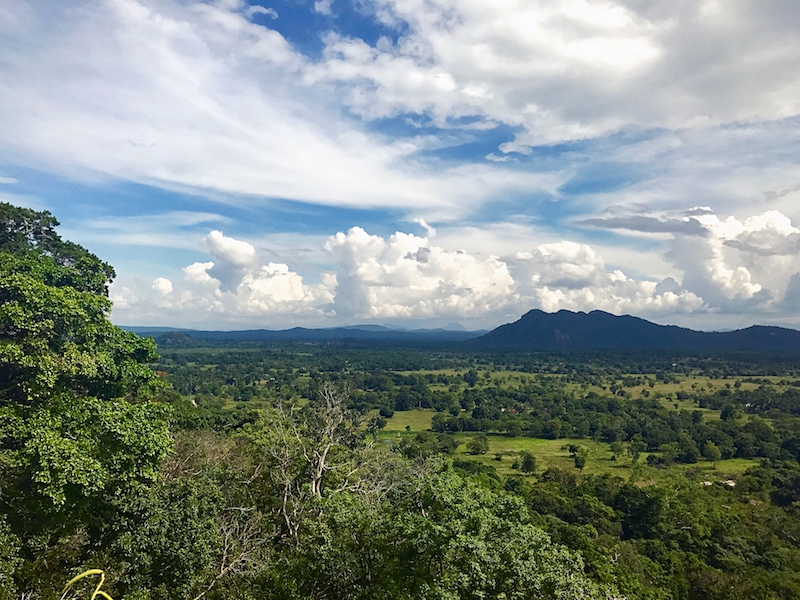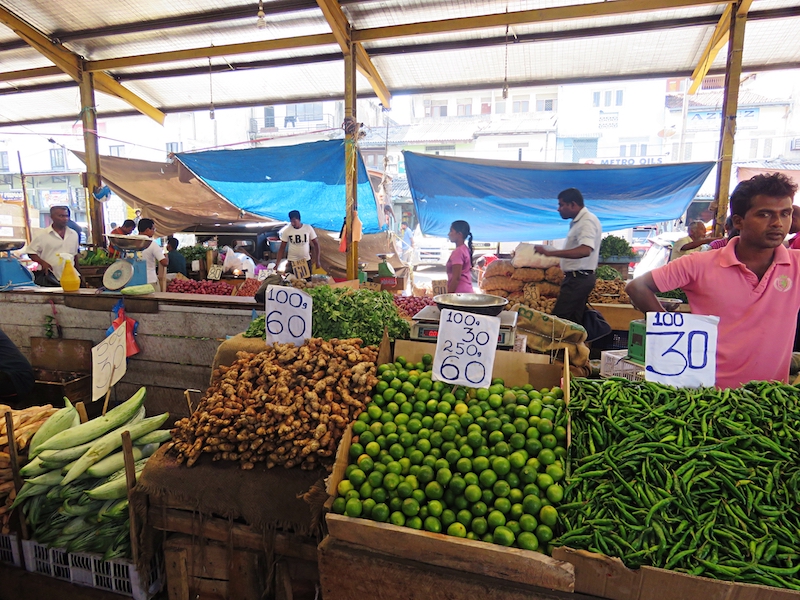 Travelling To Sri Lanka: Essential Info
Currency:
Sri Lankan Rupee (LKR)
Visas:
Everyone, except those from the Maldives and Singapore, needs a visa (which is valid for thirty days). Apply for one online here.
Best Time To Go:
Sri Lanka has two monsoons that hit different parts of the country at different times of the year. If you want to visit the West and South Coasts or hill country, the best time to visit is December to March. If you're aiming to hit the East Coast, plan your trip between April/May and September.
Languages:
Sinhala, Tamil, English
Tourism Links:
Sri Lanka Tourism
Average Flight Time:
4.5 hours (Dubai to Colombo, nonstop, via Emirates)
Getting Around:
Hire a driver and car if you can for ease and comfort. Massive thanks to AMW Group and Dubai's Al-Futtaim Group for generously providing us with a lovely driver named Kalan and a 4WD Nissan so we could safely get around to all of our destinations on a packed schedule!
Had we not had the fortune of being hooked up with a driver and car, we would have gone with Red Dot Tours. They are professional, knowledgeable, and detailed, and can set you up with one of their standard tours or help you put together your own itinerary. Otherwise, you can rely on buses, trains, and tuktuks but just don't expect to get anywhere quickly!
To get around locally, tuktuks are the way to go. For convenience, try the app PickMe, which is similar to Uber in that you can call for a ride (from tuktuk to van) on a GPS-tracked system. It's easy to use and if you're travelling solo (particularly as a woman), it can provide peace of mind.
COLOMBO
ABOUT COLOMBO
The capital city is coming into its own! Once just the "passing through" city as tourists arrived in or left the country, Colombo is bubbling over with emerging talent, especially in areas like food, fashion, and interior design. You'll also see high rises and plenty of 5-star hotels popping up, indicating that the market is on the up and up. There's an incredibly fascinating and diverse culture here, mixing the old and traditional with the new and modern.
Nights spent here: 2
PILLOWS (WHERE TO STAY)
During our 48 hours in the city, we stayed at Casa Colombo, a retro-chic boutique hotel in a 200-year old home that once belonged to a wealthy Indian trading family. Entrepreneur Lalin Michael Jinasena (whose award-winning Casa Colombo Collection includes this and another hotel in Mirissa) has revamped the space to make it into a unique, posh, and utterly welcoming space.
Read more about Casa Colombo here.
Mövenpick Hotel Colombo
We were in town just in time for this 5-star hotel's soft launch and were kindly invited to attend by Ashok Pathirage, chairman of Soft Logic Holdings which owns the hotel, and Sam Rajapaksa, the Managing Director of AMW. This was an event filled to the brim with some of the most influential businesspeople around the country, including Ruwan Manatunga, Head of Corporate Banking at Hatton National Bank, and Sam's wife, Chaya Rajapaksa. With the sparkling views of up and coming Colombo below us, we partied away on the 24th floor rooftop bar, sipping on Bombay & Tonics and balancing our diets between a fabulously rich cheese raclette and some healthier sushi.
The hotel, by the way, is being marketed as a business-centric hotel but it'd make a fabulous stay for anyone. There are 219 rooms with an extraordinary Presidential Suite, plus the new Spa Ceylon and restaurants featuring everything from fine French cuisine to international buffets. If anything, carve out some time one evening to head up to the rooftop bar and soak up the view and vibe with a glass of bubbles in hand!
PLATES (FOOD AND DRINKS)
Ministry of Crab
The founders of this buzzing restaurant are famous cricketers Mahela Jayawardene and Kumar Sangakkara (both former captains of the Sri Lankan cricket team) and Dharshan Munidasa (restaurateur and celebrity chef who has also received accolades for his first restaurant, Nihonbashi). It's set in the Old Dutch Hospital and is a hit with both tourists and the well-heeled of Sri Lanka. They have crabs of various sizes to match your hunger…including the Crabzilla, an Instagram-worthy 2 kg monstrosity.
Reservations definitely recommended.
Barefoot Café
This is almost a one-stop shopping destination, where you can browse the gallery of local artwork and then purchase some beautiful handmade goods (check out their colourful fabrics) before settling in for a relaxing lunch at the cafe. It's owned by renowned artist Barbara Sansoni and her talented photographer son Dominic. Stop by on Sundays for their live jazz lunches.
Pepper
The sister company of Red Dot Tours offers curated experiences that let you truly experience the people and culture of Sri Lanka. We took part in the "Private Artisan Tea Tasting Experience", which was hosted by Dush De Silva, the founder of Teaeli (Sri Lanka's first designer tea brand) at popular Italian restaurant Bayleaf Colombo. If you want to learn more about tea and also love the idea of gourmand blends like "Almond Truffle" and "After Dinner Chocolate Mint", you'll really enjoy this!
Bayleaf Colombo, by the way, is in a gorgeous old colonial home and belongs to the same group as Park Street Mews, another restaurant recommended for its continental and tropical fusion cuisine in a stylish and airy setting.
The Gallery Café
Once the office of Sri Lanka's most famous architect Geoffrey Bawa, this café is now a sophisticated space with courtyards and alcoves to explore and artwork and architecture to admire.
Galle Face Hotel
This is one of the oldest hotels in Sri Lanka where you can see the influences from the colonial days. Formerly a Dutch mansion and warehouse, it's a grand structure that takes you back to days gone by where you can sit on the Verandah for a Ceylonese meal whilst lapping up the views.
August by Mama Aida's
Aida Suby, aka Mama Aida, made the journey from Lebanon to Sri Lanka in 1946, bringing with her authentic Middle Eastern recipes that were a huge part of her identity. Fast forward a few decades when Mama Aida began sharing her recipes and cooking through a restaurant set up by her daughter. Through this journey, the family became pioneers for Arabic cooking in Sri Lanka. We've heard the food here is delectable (the pita and roti are family secrets!) and knowing the story behind this restaurant makes everything taste that much richer.
PURITY (ARTS AND CULTURE)
Sapumal Foundation
Located in the former home of the renowned Harry Pieris, this is a rambling warren of rooms and pieces of art from some of the most high profile artists back in the 70's and 80's, including Lionel Wendt. Skip some of the trendy galleries and get lost here instead. It's a fascinating way to learn more about the history of Sri Lanka and its local artists. Entry is free but donations are welcome.
Saskia Fernando Gallery
This is the largest contemporary art gallery in the country, featuring a mix of established and emerging artists across Sri Lanka. It's wonderfully diverse with a representation of 20-25 artists and has become somewhat of a platform for Sri Lankan talent. On the ground floor is Saskia's sister Annika's lovely clothing boutique PR.
Theerta Red Dot Gallery
Recommended by the art crowd at Saskia Fernando, this contemporary art gallery hosts artist residency projects. It's definitely a little bit more "out there" but art lovers will undoubtedly find something to love here.
Colombo Art Biennale
CAB is a platform for contemporary art and culture within Sri Lanka and to also highlight the country's incredible talent both locally and internationally. We've heard fab things about CAB because artists are funded to be as creative as they want, without boundaries. It really is all about the art and the talent!
Green Path
Officially called Ananda Kumaraswamy Mawatha, Green Path is a street that sits opposite Victoria Park and acts as a sidewalk gallery for local artists. You'll find everything here, from young and old artists to traditional and contemporary pieces, and the open-air setting gives it a nice edge that you won't find in traditional galleries. It's also conveniently located next to the National Museum so you can head here before or after your stroll.
Viharamahadevi Park
On your way to or from Green Path, take a stroll past this park where you can get a great photo opp with the stonking gold Buddha.
Gangaramaya Temple
One of Sri Lanka's iconic temples, this lavish structure houses treasures like the country's smallest Buddha viewable through a magnifying glass. Spend some time wandering around and if you're lucky, you might even have the opportunity to be blessed by one of the monks and leave with a Sai Sin bracelet (a string bracelet blessed by monks).
Donations are greatly appreciated.
Pettah Markets
If you want to experience true, local market culture, this is the place to be. It's loud and crowded and the crammed streets make for some hectic driving but despite the honking and waving, the people are super friendly and it's very safe here. You'll see everything from fabrics to fruit and vegetable markets stocked with fresh (and oftentimes, unfamiliar) produce.
PEOPLE
Samaadhi Weerasinghe
Designer Samaadhi Weerasinghe creates simple, flowing silhouettes in soft fabrics and bright colours in her clothing line ANUK. Her designs cater to both the warm climate of Sri Lanka and every woman's body type. These pieces are meant to be comfortable whilst also being flattering and celebrating women. Hear, hear!
Saskia Fernando
Not only does Saskia run a fabulous art gallery but she also has a jewellery line called Papillon Du Thé. She focuses on handcrafted pieces and works with artisans who work on a small scale and prioritise quality over quantity.
Annika Fernando
We can't mention Saskia without mentioning Annika. After all, these sisters are the dynamic duo of the design scene. Annika's baby is her clothing boutique PR, a play off of the family's store Paradise Road. She curates a gorgeous collection for the store, filled with both emerging and established designers, as well as her own line Maus, along with jewellery and bath products. There's just so much beautiful stuff here, you'll be whipping out your credit card in no time.
ULPOTHA
The Cultural Triangle is in the heart of Sri Lanka and is home to some of the most wonderful ancient monuments and remnants of Buddhist history. This often acts as the gateway to Dambulla, a popular place to visit with famous sights like the Golden Temple and Sigiriya.
We skipped the more touristy stops and headed straight to the base of the Galgiriyawa Mountains, filled with monkeys, thick jungle foliage, and hikes up to little mountain monasteries. Our time here was about embracing nature and getting away from it all!
Nights spent here: 2
PILLOWS (WHERE TO STAY)
Ulpotha Yoga Retreat is an incredible place that was set up by a couple of expats and is staffed by local villagers who farm the land during the off season. This place is blissfully without electricity or hot water and focuses on Ayurveda and embracing nature. You sleep in open-air huts, eat meals prepared over a fire with fresh produce picked from the gardens that day, and can take part in some intense yoga sessions led by visiting instructors from all over the world.
Read more about Ulpotha here.
PURITY (ARTS AND CULTURE)
Monkey Rock
Likely not known by many outside of those who have spent time at and around Ulpotha, you can hike up to this rock for spectacular views or for a bit of an enlightening experience.
Willy's Rock
This is another spot only for locals and those in the know. Higher than Monkey Rock, you can hike up here if you're in the mood to greet the day with some meditation or a few asanas.
Saliygama Aranya
An hour's hike from Ulpotha, after a steep incline with many, many steps, you'll be rewarded with this mountain monastery and the stunning views surrounding it. Don't be surprised by the skeleton hanging in one of the structures…it was likely used for anatomy lessons!
Further out from Ulpotha…
Reswehera Temple is known for its two Buddha statues—one carved in rock, the other found within the monastery.
Hatthikuchchi Temple is one of the oldest Buddhist temple complexes in Sri Lanka.
Yapahuwa Rock Fortress was once the capital of the country and was also a Buddhist monastery at one point.
Arankele Monastery is a secluded ancient forest monastery.
KANDY
We mentioned that the Cultural Triangle is the gateway to Dambulla…and that's exactly where we stopped by before heading into Kandy. It's a popular place for tourists and with sights like the Golden Temple (which is made up of five rock caves) and the ancient rock fortress Sigiriya, there's no question as to why.
Kandy itself is a bustling city filled with culture and great cuisine, all atop a plateau surrounded by mountains and tropical foliage. The city centre is crowded and congested with cars so your best bet is to stick to the outskirts to soak up the beauty of what some call the cultural capital of Sri Lanka.
Nights spent here: 1
PILLOWS (WHERE TO STAY)
With only one night in Kandy, we opted for Santani Wellness, a beautifully minimalistic retreat tucked away up in the mountains. There wasn't a single bad angle here and the property is built to embrace that. The almost fully glass-encased main building is where you'll be privy to a stunning panoramic view of the mountains whether you're having breakfast or catching up on reading in the sitting area. Accommodations are in individual villas called 'ambalamas' with lovely balconies from which you can take in the fresh early morning air and watch the thick morning mist covering the mountains whilst sipping on a cup of tea.
Read more about Santani here.
PURITY (ARTS AND CULTURE)
Visit an Artist's Home
We gladly traded in a few hours of sightseeing for this unique opportunity, which was visiting the home and studio of Nordic-Sri Lankan artist Rahju and his artist daughter Rudrani. Their blissful home is located up in the hills and they graciously welcomed us into their inspirational and creative space whilst telling us stories and revealing the concepts behind their artwork. This is another one of those special curated experiences available through Pepper and is by booking only, so don't miss out on the chance to get an intimate look into the lives of these fascinating artists!
Helga's Folly
Put this place down as a non-compromise stopover whilst in Kandy. Described as an "anti-hotel", Helga's Folly is a quirky, over-the-top home that began with Helga's mother in the 1930's. It has since evolved organically and become known for hosting guests such as Sir Laurence Olivier and Mahatma Ghandi. Filled with an explosion of colours, glass, fabrics, gramophones, murals, paintings, and candelabras overflowing with years of dripping wax, it is, as Helga's fashion designer daughter Selina Blow says, "a stately home in Britain with all its trinkets, then shake it up, tip it upside down, and that's what you get – Helga's Folly".
You can actually stay here but as the website says: "If expecting a regular hotel experience, best look elsewhere".
Curious about where to eat, sleep, and play in Ella or down south by Gurupokuna and Galle? Take a look at Part 2 of our Sri Lanka guide!
MAP