Luxury Is An Emotion: Johannesburg's Fairlawns Boutique Hotel & Spa
08.08.2018 | Read
Meet Fairlawns Boutique Hotel & Spa
I have been spoilt.
Johannesburg, for all of her concrete jungle hustle and bustle, still has a few secrets up her sleeve. And had it not been for our media partners at World Luxury Hotel Awards, I'd still be clueless to one of them – Fairlawns Boutique Hotel & Spa, located about a 20-minute drive away from me.
The hotel scooped up a number of awards in 2017, including Luxury Spa Hotel – Country Winner and Luxury Boutique Hotel – Regional Winner: South Africa, not to mention Luxury Hotel Restaurant in the Regional category (you can read more about the restaurant, Amuse-Bouche, here).
Suffice it to say, Fairlawns walks the walk and talks the talk.
If you're familiar with Johannesburg, then you know the glittering business hub of Sandton, stacked with restaurants, shiny shopping centres, and towering office buildings, intersected by busy streets and highways. "Tranquil" or "sanctuary" are not words you'll often hear to describe this area.
Fairlawns Boutique Hotel & Spa is in a residential area just outside central Sandton and although it isn't victim to the mind-numbing rumbles of rush hour traffic, it's still a relatively densely packed neighbourhood. And yet, any semblance of the boisterous city melts away the minute you pull into the private drive and pass through the security gates.
Call it the cure for an urban hangover.
Founded in 1997, the property once belonged to the Oppenheimer Trust (yes, those Oppenheimers). The former main house, guest quarters, and stables have all been turned into the sumptuous boutique hotel you see today.
The property here is deceivingly large, something you wouldn't gather at first glance. What you think is only one building opens up into a large back lawn and several other buildings. The grounds are shrouded by trees that create a buffer against outside noise, and the loudest disturbances you'll likely hear are the brash cries of hadedas.
Style & Service
At the security gate, the guard asked for my name and in the minute or two that it took to drive to the guest drop-off point, a porter was already waiting to greet me. He led me down a trellised walkway to the reception desk where the lovely Eugene gave me a warm personal welcome as she checked me in.
A silver tray with a steaming hand towel appeared at my side, followed by a (non-alcoholic) welcome drink, both gestures that would have been especially appreciated had I just hopped off a long flight!
The check-in process was so smooth that it was done before I knew it but I managed a quick glance around the foyer. Not your typical hotel lobby, there's a small reception desk and the concierge's table just next to it, a chandelier delicately hanging above. Bookshelves are lined with curios, and there are two separate cosy seating arrangements with tables topped with objets d'art and coffee table books.
Fairlawns Boutique Hotel & Spa mixes traditional with modern, respecting the property's history and heritage without feeling old-fashioned or outdated. In fact, Managing Director Michael Kewley undertook an extensive renovation in 2016 to replace the shabby chic look that had dominated the hotel for almost 20 years with something more modern and chic. The decor is wonderfully eclectic, promising a new delight around every corner and behind every door.
Michael is both an avid art collector and interior designer so it makes sense that he took such a hands-on approach to the renovation and why it is such a visual playground. Most of the artwork displayed here has been collected by Michael during his world travels. There are too many artists to list but two who are featured prominently are Graham Springer and David Ballam. (I don't envy the person in charge of taking inventory of the massive collection of artwork!)
For the design-savvy among you, this article does a fab job of detailing the style and work that went into the hotel's facelift.
During my stay, there was never a moment when I felt like the staff were just there to pick up a check. Well-presented with crisp suiting and uniforms, the people representing the Fairlawns brand deliver a high level of service that reminds me of Japanese omotenashi hospitality, which focuses on paying attention to details and anticipating guests' needs. For instance, when I was shown to my dinner table, the host immediately pulled up a small stool so I could set my clutch on it, saving me from having to either awkwardly position it on my chair or rudely placing it on the table.
As we all know, the people are the beating heart of any business. You can have a fancy, glossy brand but if the people you hire aren't up to snuff, then you're not going to get very far.
With that in mind, let me do a few special mentions to those who really made my stay memorable!
The first is Eugene. She was one of my first impressions of the hotel and her friendly, sincere personality set the tone for the rest of my visit. Her enthusiasm was warm and infectious and she seemed truly proud to be working at Fairlawns.
Then there's Steven, the evening concierge who graciously gave me more time than he had during my site inspection of the property. His time was mine and I selfishly took it, eager to see as much of Fairlawns as possible.
And finally, Amine, the rockstar bartender who I would wager is going to go far. Setting aside the fact that he kept me topped up on Perrier-Jouët, which will automatically put most people in my good graces, Amine was charming, approachable, and eager to connect with guests. As the evening progressed, I found out that he is originally from Morocco and started as a plumber for the Fairlawns property. Luckily, management took notice of him and he has been moving up ever since. Keep it up, Amine! Your charisma, skills, and dedication will take you a long way.
Boudoir
My boudoir for the night was Courtyard Suite 3, located in the former stable house which opens onto a beautifully manicured courtyard. When we approached my room, I could sense Eugene carefully watching me as she pushed the door open.
Seconds later, I knew why.
I let out a breathless "oh wow…", mouth open, eyes wide, as I stepped into the expansive suite and looked around. Eugene beamed at my reaction, proudly stating that this room always elicits a response similar to mine.
The moment I was alone, I promptly slipped off my heels and sprawled out across the king size bed, burying my toes into the white faux fur throw.
The room is spacious, light, and airy, with high ceilings, wooden floors (which are heated!), and a palette of white and grey accented by purple. The bed is flanked by chandeliers and faces a fireplace with a large flatscreen TV, framed and mounted above the mantle. I was pleased to see outlets and USB ports on both sides of the bed – a seemingly minor detail until you're setting your alarm for the next morning and realise your phone is close to death.
The foot of the bed holds the perfect setup for a cosy night in: a sofa and armchairs around a ghost glass coffee table, topped with a bottle of red wine and a selection of books and magazines. If you're staying here for more than a night (and you really should), call the front desk to light the fireplace and spend a few hours curled up with a good book and a glass of wine.
A photogenic slipper tub, accompanied by a pair of ceramic Chinese drum stools, anchors the spacious bathroom area. A large shower, a heated towel rack, and the bathroom occupy one side; the other has a double basin with Charlotte Rhys amenities and a small walk-in closet. A skylight bathes the area with sunshine during the day and the chandelier above the tub provides a bright glow in the evenings.
(Although the suite is an open plan, you can pull the sliding shutters closed if you prefer a little modesty.)
Fairlawns has a total of 40 suites plus one private villa, which has been known to host celebrities and dignitaries. Even the "entry level" suites will give you the luxury of space and you honestly can't go wrong with any one. That being said, if you are staying for an extended period of time, I would recommend booking at least a courtyard suite for that extra roominess and comfort you'll crave at the end of the day. Each room is decorated differently so if you stay here multiple times, be prepared to be surprised every time!
Nibble
There are few different places to eat at Fairlawns. First is Amuse-Bouche, their award-wining fine dining restaurant that serves breakfast, lunch, and dinner. It's a beautiful glass-encased dining room with plush upholstered chairs, luxurious linens, and shimmering chandeliers. Breakfast is a well-stocked buffet with the option to order a "hot" dish, such as an omelette or English Breakfast. Lunch and dinner are both à la carte.
(For what to expect during dinner at Amuse-Bouche, read the write-up here.)
Then there is the Manor House Bistro, a casual and quirky modern-meets-vintage dining space, with mismatched furniture and décor pieces in every corner and on every surface. The hotel serves their famous High Tea in this room and I can't imagine a more suitable setting! You can also eat out on the terrace if you just want to soak up the sunshine in an al fresco vibe or, for a truly special treat, you can arrange for a meal in one of the poolside cabanas.
Finally, there is the Muse Champagne Room. While drinks come first here, there is a small menu of nibbles to accompany your bubbles, from classic cheese platters and oysters, to more untraditional selections such as salmon sashimi and duck rendang.
Quaff
But of course, the highlight for drinks is undoubtedly the Muse Champagne Room, located a few steps down from the main dining room. Created in collaboration with Perrier-Jouët, it's a stunning little space with an illuminated glass and brass bar, a fireplace framed by emerald green tiles, and wallpaper that echoes the unmistakeable floral print of Perrier-Jouët's Belle Epoque label. The vibe is Art Deco glam and I adored every inch of it.
In fact, I sat here longer than I should have, which led to me getting a rather late start to dinner. But how could I leave when I was so comfortably nestled on the velvet settee in front of the fireplace, with Amine offering me a taste of the Rose so I could compare it to the Brut? (A glass of champagne in each hand – a true #rebelleboss moment!!)
Amuse-Bouche has a Diamond Award-winning wine list with options for every budget and palate. I opted for the 2015 Boschendal Merlot, which was marked as a sommelier selection and a perfect fit for dinner. (You can read more about the food and Chef Jandri Niemand here.)
Rejuvenate
Fairlawns touts their spa as the only Balinese-style spa in Johannesburg and is located in a separate building across the lawn, hidden behind some trees.
The spa is yet another case of "more than meets the eye". The main reception lounge, with Bali-inspired decor, is a cosy room that holds a table topped with nibbles and drinks and an intimate seating area. It also has the entrance to the gym where the glass doors reveal a not-so-zen view of the equipment and people working out. Luckily, the changing room is quieter and gives you the chance to switch into "relax" mode.
The indoor treatment area is through another door in the main room, located discreetly behind a wooden screen. The vibe changes instantly. It is serene, with the trickling sounds of a water feature (complete with floating lotus flowers) and flickering candlelight. There are five treatment rooms here and you won't want to speak above a whisper – that's how quiet it is – but that's not even the best part.
When you step outside, you'll magically find yourself in a Balinese garden. There are private couples treatment villas, more water features, and a stone pathway, all immersed within a green forest behind a wall that separates it from the main hotel property.
It was a little too chilly for me to want to stay outdoors for long but this place must be a dream in the summer!
For more about the spa, as well as a Q&A with the spa manager, hop over to the full review here.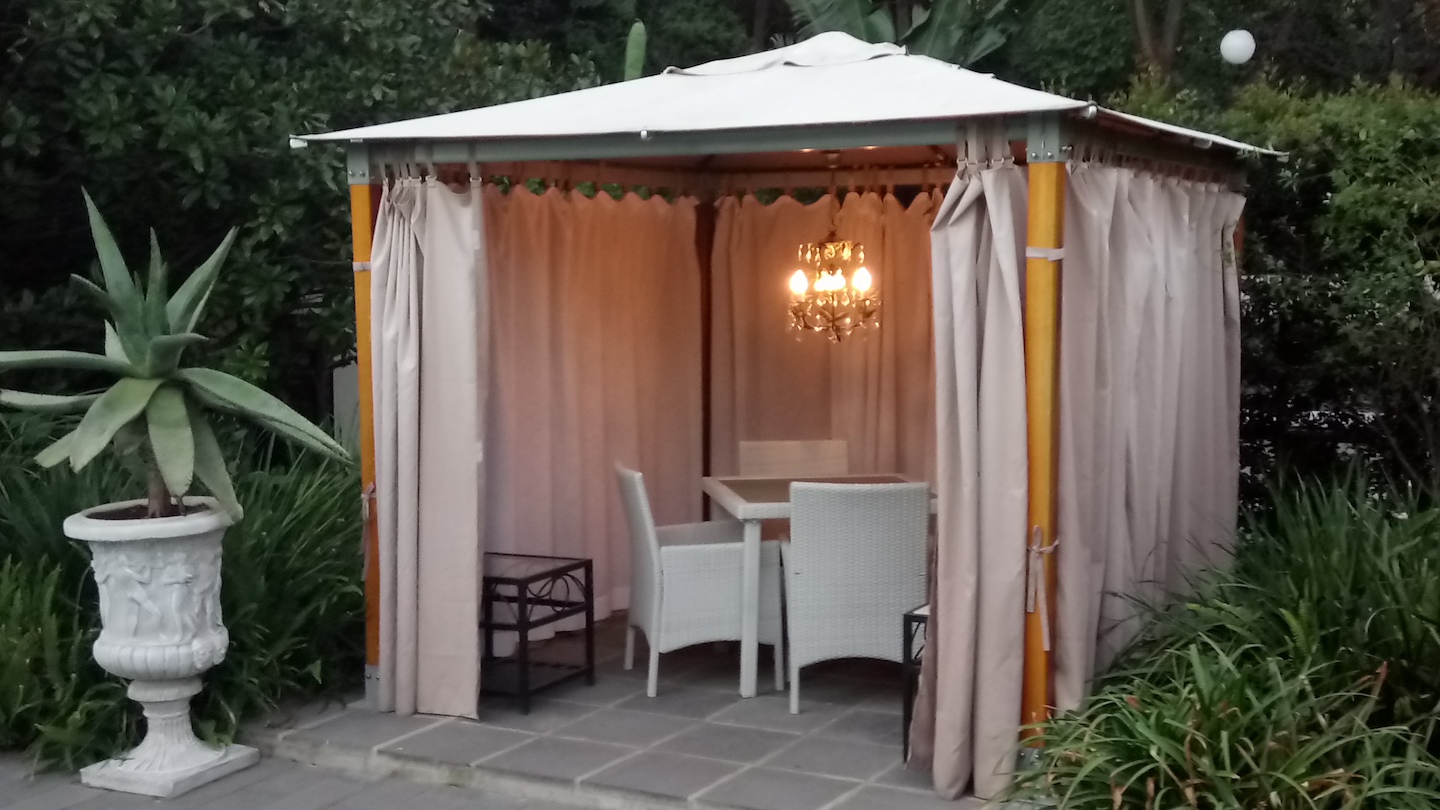 Good To Know
The new spa area is scheduled to open in Spring 2018 (September/October)
There are live piano performances every Friday, Saturday, and Sunday from 15:00 – 21:00
Their "Into The Woods" private dining room accommodates up to 12 guests and is perfect for intimate events
Muse Champagne Room also has an outdoor seating area that just begs for sexy summer soirees and late afternoon drinks with the girls
There are all sorts of hidden nooks here. Look for the gazebos peppered around where you can have a moment to yourself (or with that special someone!).
Final Thoughts
As the car pulled out of the gates and Fairlawns disappeared from my view, I looked down at the branded envelope with my checkout form neatly folded in it.
Printed on the back was a single line:
Luxury is an emotion
Fairlawns, you've mastered the secret formula of being classy without being pretentious, being luxurious without being too precious, and making every one of your guests feel like a VIP.
For any of you planning a stay in Johannesburg, skip right over the big brand names and head straight to Fairlawns Boutique Hotel. You won't even want to leave the property, and if you're here for a staycation, I recommend that you don't! Hole up for the weekend and pamper yourself. I know that's what I'm going to do the next time I stay here (and trust me, there will be a next time!).
Remember, as we say here at The Caviar Spoon ReBelle – indulgence isn't a dirty word.
Disclaimer: The Caviar Spoon ReBelle was hosted by Fairlawns Boutique Hotel but all opinions expressed are our own.
Connect
1 Alma Road, Morningside, Sandton, Johannesburg