The Backbones of Botswana
27.08.2019 | Read
Can luxury and sustainability co-exist on safari? Last September we didn't know. But after spending a week in May 2019 filming The Backbones of Botswana, we can conclusively report that sustainable luxury is as intrinsic to safari in Botswana as elephant sightings, and the country currently has the largest elephant population on earth.
The Backbones Of … series is all about digging deep into a destination and finding out how responsible nomads can make luxury travel more meaningful, create a positive impact and take nothing away except a better understanding of a country and its landscape, the customs, culture, communities and people. So last year, when filmmaker Melody Sky first mentioned Botswana, I was immediately on board.
As one of the world's leading luxury safari destinations, there was plenty of superlative soaked information about Botswana online. So my first step was to ignore that and do some good, old fashioned research: offline and in person. A task which would have been impossible without contacts like Cynthia Mothelesi. Founder of Happy Soul Adventures in Gaborone, Cynthia was our first and finest guide into what became The Backbones of Botswana. Although she certainly wasn't alone, there are so many unforgettable people without whom our film would never have existed, and to them we can't say thank you enough.
Our experience was extraordinary, but not exceptional. Sustainable luxury is vital to Botswana's celebrated low-density tourism. It's the reason why the country limits several enormous private game reserves to just two or three exclusive camps and why only one five-star eco-lodge has ever been built in legendary Chobe National Park. Botswana's take on sustainable luxury supports both community and environmental conservation, creates rewarding jobs for local people and gives back so much more to responsible travellers than it ever asks in return. And here's how we worked it for seven memorable days last May.
Any excuse for a night at Fairlawns Boutique Hotel & Spa
Flights to Botswana normally connect in Johannesburg. Which, as far as we were concerned, was only a perfect excuse to indulge in a night at Fairlawns Boutique Hotel & Spa. This is one of The Caviar Spoon's favourite places to stay in South Africa and the fact that it balances outrageous luxury with social responsibility, just makes us love it all the more. It's also one of those subtle places we came across almost by accident, considered keeping quiet about, then couldn't resist sharing.
If you ever hanker after a hint of petit chateau on your travels, Fairlawns is definitely the hotel to satisfy those cravings. It's a combination of elegant grandeur and relaxed country house charm, which isn't easy to find in the heart of Joburg. There are tucked away nooks for quiet moments. The garden's a miracle of light greens and dappled shade, traced all over with peaceful pathways – it even conceals a glorious Balinese Spa. Indoors, gallery-worthy contemporary art graces the walls. And every single suite and villa is an original: individually designed with a bold blend of elegant European furniture, African and Asian details and coolly modern elements – an eclectic mix which really shouldn't work, but does, brilliantly.
It's fair to say that Fairlawns never fails to cocoon, but for this visit they raised the bar higher than ever by generously upgrading us to the hotel's only Presidential Suite. This extravagant two-storey villa comes with its own living room, formal dining room, kitchen, study and Spa Room, as well as two enormous bedrooms, both with private bathrooms. And Melody may have lucked out with a decadent four poster and working fireplace, but my room was equally opulent on a slightly smaller scale and I fell in love with the lavishly upholstered bed.
Tempting as it was to try and squeeze some pre-safari treats into our plans, we settled for exploring the hotel's new Balinese Spa instead and discovered an urban oasis tucked behind a wall of velvety green plants; calming treatment rooms at the end of cool stone walkways; an open air pool surrounded by lounge chairs and even a private bar, of course. If we'd had more hours at Fairlawns this is exactly where we'd be spending them.
Mark Tennant shares safari secrets and wild tales
Fairlawns was awash with delightful distractions and it took a will of iron to ignore the menu of soothing spa treatments in favour of getting down to business. But, keenly aware of only having seven days to play with, making every second count was priority. And, as it turned out, interviewing Mark Tennant for The Backbones of Botswana was as refreshing as a spa, and considerably more entertaining.
If the name Mark Tennant doesn't sound familiar, you might recognise him as half of 'Mad Mike and Mark', the team behind Discovery Channel's multi-award-winning Animal Planet series. Off-screen, he's been keynote speaker for the New York Travel Show and is now one of Southern Africa's leading wildlife guides as well as a committed conservationist and founder of the exceptional safari company, Journey Wild. So snaring a brief sit-down with this living legend was a bit of a coup for us, particularly as few people are more safari savvy.
Even edited down for The Backbones of Botswana, Mark's 25 years worth of tales are riveting and thought-provoking. Read the full interview here for his take on the future of conservation. There's no doubting his passion and he definitely doesn't believe in sugar coating, as he says:
'We just need to look after the environment because, believe me, the wildlife is more than capable of looking after itself'.
And how did we thank Mark for his time and invaluable expertise? We gave him teddy bears. Not for his own personal use, but as a gift for the children at Othandweni Family Care Centre in Soweto, part of the Johannesburg Child Welfare Organisation and one of the charities supported by Journey Wild.
Before quitting Joburg and heading to Botswana, there was just time for a catch-up on the subject of social responsibility with Fairlawns' Resident Manager, Theunie Marais. As one of South Africa's finest boutique hotels and a landmark building at the heart of Johannesburg, Fairlawns has a high profile and isn't shy about exploiting it for glamorous fundraisers – their annual garden party in support of Johannesburg Children's Home is one of the city's longstanding save-the-date events. But, as Theunie was quick to point out, not all giving is glossy and a great deal of the hotel's philanthropic work goes almost entirely unremarked, like their support of ILEMA, a small and self-funded local school assisted by Fairlawns and now on its way to employing a third full-time teacher.
Chobe National Park: eco-icon since 1967
Tough as it was tearing ourselves away from the cossetting embrace of Fairlawns, we were undeniably excited to be heading for Chobe National Park in the north of Botswana.
Smash cut to check-in at Johannesburg Airport and a sharp lesson on the perils of responsible packing.
Between Melody's 15kg-plus of camera equipment and the piles of clothes, toys and books donated by friends for various children's charities, we were slapped with an eyewatering excess luggage charge – one eventuality we didn't anticipate in all our meticulous pre-travel research. Faced with the prospect of turning up in Botswana empty-handed and filming our first travel documentary on an iPhone, of course we paid up – grudgingly – and made a mental note to approach South African Airways with the idea of donating a little extra baggage allowance to responsible travellers.
Arriving at Kasane in northern Botswana, we can understand why Elizabeth Taylor picked this setting for her second wedding to Richard Burton in 1975. It's known as the gateway to Chobe National Park and, just beyond the boundaries of the blink-and-miss-it town, lies 10,000km² of untamed grassland teeming with wildlife.
The half an hour drive from Kasane Airport to Chobe Game Lodge was just enough time for Kedi our driver to explain that, as the Lodge is the only hotel in the National Park, all guests have a head start on morning game drives – seems traffic happens, even in the wild.
However, our first safari experience was a totally tranquil cruise along Chobe river while troupes of baboon capered along the banks, bush eagles perched on skeleton trees and at least two hippos emerged from the water doing that iconic big-mouth hippo thing.
As a couple of crocodiles eyed us lazily from the water's edge our guide explained the largely symbiotic relationship these ferocious predators have with water monitor lizards: apparently both live in harmony until breeding season when the turncoat lizard shows its true colours by feasting on crocodile eggs. We were surprised to learn the lizard's predilections are actually endangering the crocodile population – so much for brutal, yet balanced, nature.
The one and only Chobe Game Lodge
Chobe Game Lodge deserves every one of its five stars for the location alone, but certainly doesn't believe in resting on its laurels. Each of its 40 rooms has both air conditioning and ceiling fans, an en-suite bathroom with freestanding bath and shower, complimentary mini-bar and a private terrace which, in the case of our spacious twin room, was blessed with high baboon-appeal.
The Lodge also offers a range of newly designed Triple Rooms; a choice of luxurious Family Suites with private plunge pools and sun decks; and true romantics can book the Honeymoon Suite where Taylor and Burton stayed after their wedding in 1975 – thoughtfully restored but largely unchanged, just as it should be really.
It's a long walk to the nearest local restaurant so room rates here include all meals and drinks. We can confirm the barkeep mixes a mean Negroni and breakfast, lunch and dinner are served in different locations around the Lodge depending on the time of day – a strangely captivating custom. And naturally there was traditional High Tea on the boardwalk every afternoon.
These quaint traditions were all delightful, but it's what goes on behind the scenes which really shows the commitment to protecting the pleasure of Chobe in perpetuity:
In 2012, Chobe Game Lodge was the first property to become fully Ecotourism-Certified by the Botswana Tourism Organisation.

An electric-powered-safari pioneer, Chobe was the first in Africa to exclusively use electric jeeps and boats.

Chobe's roofs incorporate an astounding 600m² of solar panels.

Roughly 60,000 litres of grey water is processed on-site every day, then used to irrigate the gardens and grounds.

Chobe's kitchens are fuelled by on-site Biogas plant which converts up to 100kg of biodegradable waste daily.

The 250m long waterfront boardwalk is constructed from maintenance-free recycled timber/plastic so it doesn't need chemical cleaners and Chobe River remains free of pollutants.

At least 95% of all plastic, paper and metal waste is sorted and recycled. Plastic bottles are returned to suppliers for recycling. And glass crushed on-site is repurposed as building material.
It was interesting to learn that a further nine properties across the country have received full Ecotourism-Certification by Botswana Tourism Organisation since 2012. Too soon to hail a revolution maybe, but a step in the right direction for sustainable luxury safaris.
Safari in support of Kazulgula Children's Ark
At heart any safari business is as much about people as wildlife, a fact that Chobe Game Lodge are keenly aware of judging by how well they care for employees. Staff participate in profit sharing and receive annual dividends at the end of each financial year. All employees benefit from weekly counselling sessions to support personal development, and a company doctor visits once a month to provide healthcare.
Community conservation is equally important, as we saw first-hand on a visit to Kazulgula Children's Ark (KCA).
One of several local initiatives supported by Chobe, KCA provides a caring environment where orphaned and vulnerable children aged between three and six years are fed, nurtured and helped with education and nutritional programmes.
The project was first started by Sharon Nel and Emeldah Yuyi in 2005 and while it operates in partnership with the local Social & Community Development Council, it's wholly funded by private donations. Sharon told us that even their space at Kubu Lodge was a generous, no-strings-attached donation,
'Heidi, who owns Kubu Lodge, just said to use the building for something good. So we started KCA, because everything begins with children.'
Chobe Game Lodge make monthly donations to the project and KCA decide how the money is allocated. In addition Chobe use their high profile to raise awareness and encourage other local business to get involved. Mr Veg now drops off fresh food every week; KFC donate two pula to KCA from the price of every 'Feed A Child' meal; and Spar Kasane provides lunch packs for monthly Teen Club meetings.
KCA is also part of the international Pack For A Purpose initiative, which allows responsible travellers to make a difference by making some space in their luggage for children's clothes, toys, books and other essentials.
Since 2005, 10 KCA classes have progressed to the 'big school' and in an inspiring trickle-down, older kids now mentor younger ones. As Sharon Nel said, 'everything begins with children'.
Sunrise game drives and elephant encounters
There's no denying Chobe Game Lodge ticks all the responsible travel boxes and scores high on Chobe River cruises, but how did it measure up on bush safaris?
Sunrise game drives are iconic safari experiences so Chobe made no apology for getting us all up, fortified against the pre-dawn chill with hot coffee and a light breakfast and out into the bush before anything was stirring, apart from the wildlife.
Chobe National Park is known for its elephant population, only you wouldn't have known it on this particular morning. But it was hard to be disappointed so many impalas and baboons were out in force just as the sun appeared over the horizon: nature's timing was impeccable, as ever.
It might have been the silence of our electric jeep or just an innate disregard for humans, but we were amazed at how close we came to Chobe's wild residents and how unconcerned they were by our presence – even the frenzied clicking of cameras didn't dent their studied insouciance.
A family of stately giraffes deigned to briefly lift their heads from the business of breakfast to give us a cursory glance. Warthogs sped through the grass with hoglets in tow and not even one curious look in our direction. And the biggest deal of all? Three lionesses just strolled on by, ignoring our muffled squeals of excitement with what can only be described as disdain. If there was ever any doubt about the park's pecking order, we now know for sure that humans are practically a sub-species here.
Our final day was given over to Chobe's legendary elephants. At the last count their population numbered in the region of 120,000 and is still growing according to Kedi, our guide, driver and resident elephant expert.
Once again we were treated to astonishingly close encounters, getting almost within touching distance of a mother elephant and her baby – just as heart melting as it sounds. And at one point we were brought to complete standstill by an imposing bull elephant simply stepping into the road and stopping dead. We won't lie, pachyderm face-offs are daunting, or would be if Kedi hadn't been the epitome of cool, calmly using the impromptu hold-up to explain a little about 22-month long elephant pregnancies; age determination by tusk growth and the truth about their mythical memories.
Heavenly encounters with Chobe Angels
Every unforgettable wildlife experience at Chobe was made all the more memorable by the Chobe Angels. Over 65% of staff at Chobe Game Lodge are women, but the Angels are the first ever all-female team of wildlife guides in Africa and they were amazing.
On top of the intense training to become a professional wildlife guide, each Angel is BQA (Botswana Qualifications Authority) certified – the equivalent in every way of South Africa's internationally recognised FGASA (Field Guides Association of South Africa) certification. Currently all Angels are in the process of learning the basics of photography so they can help capture those once-in-a-lifetime safari moments for guests. Plus, they're also undertaking ornithology training to add yet another skill to their already impressive range.
And if anyone is foolish enough to air a mean-spirited trope about female drivers: according to a recent survey Chobe Game Lodge vehicle maintenance and fuel costs have significantly dropped since women took over in 2005. Proving conclusively that safari game drives are greener, cleaner and safer with an Angel at the wheel.
A private view of the Okavango Delta
Chobe National Park is justifiably renowned for its vast animal herds and minute-by-minute sightings of earth's rarest creatures in their natural habitat. Private game reserves offer an entirely different safari experience, arguably more intimate and often, despite lower density wildlife, more rewarding. So on leaving Chobe Game Lodge we flew from Kasane to the Private Kwara Reserve on the Okavango Delta to put public V private to the test at Kwando Safaris Splash Camp.
Kasane to Kwara involved squashing ourselves and piles of camera equipment on to a tiny six-seater plane for a slightly turbulent 70 minute flight west. And since it was mid-May our timing was perfect for a bird's eye view of Okavango's rivers and streams before floodwater from Angola covered them completely in June, July and August.
The Okavango Delta is one of the planet's most extraordinary wetlands, a UNESCO World Heritage biosphere and heavily protected environment. It's obviously no mean feat to operate a luxury safari business under the watchful eye of the world's conservationists, but if Splash Camp feels the strain, it certainly doesn't show.
Pro, our Splash Camp driver, was waiting for us on arrival and things got off to a promising start with a daytime sighting of a nocturnal leopard minutes into our journey. It was keen eyed Pro who spotted the rare beast lurking in long grass and elegantly swerved to snare us a closer look – close enough to see its hind legs flex as it prepared to bring down a blissfully unaware impala, or so we thought. The intended prey was actually a young warthog which just escaped with its life, leaving a sulky leopard to slink off through the shrubs with Pro still tailing, from a respectful distance.
A pristine wilderness teeming with wildlife
Although it was mid-May, just before the rainy season, and the Okavango Delta was fairly dry, we still had plenty of water-based activity in the mix. In fact, there was barely time to draw breath before we were cruising downriver with four fellow guests, keenly observed by hordes of birds and the occasional curious hippo. At the two kilometre mark, Tuelo our guide slowed the engine and he and wildlife tracker, Gee, served up masterfully mixed Gin and Tonics – very civilised.
Apart from perfect G&Ts on the river, another perk of a private safari is the time guides take to get to know their guests, so the entire experience can feel almost tailor-made. According to Camp Manager, Charles, 'guiding is about people rather than animals. You have to learn guest's interests, that's the secret of becoming a good guide.' Although he was also first to admit the importance of understanding the dynamic Okavango Delta, its wild residents and the seasonal vagaries of Kwara Reserve.
Despite wildlife sightings reducing slightly during the rainy season, Okavango's mix of wetlands and grasslands make it an ideal year-round safari destination. In early June, when the rainy season begins, guides switch from jeeps to boats and focus on water safaris. Come September, drier weather means the delta is teeming with wildlife and it's back to 4 x 4s and land-based game drives. Of course the landscape changes radically from season to season as well – though we were reliably informed that the skeleton trees we saw emerging from otherwise lush, green vegetation, were a permanent fixture, killed off years ago by the floodwater's incredibly high salt content.
Advised that Kwara's wildlife density might be lower than at Chobe National Park, our expectations were adjusted accordingly. We needn't have bothered. Game drive after game drive astonished us with sightings of buffalo grazing on the savannah, alert packs of wild dogs, and skies alive with iridescent starlings. Banana-beaked southern hornbills gazed down on us from tree branches and sinister looking black-chested snake eagles wheeled idly overhead.
Groups of kudu proved antelopes are graceful even when stationary. Giraffes turned out to be surprisingly playful – at least with each other – as always, we humans were ignored. And just when we thought a daytime leopard was going to be our only big cat sighting, a hunting cheetah and two young lions on the prowl for zebra turned up, as if to demonstrate the fickle nature of nature.
Spotting so many nocturnal creatures in daylight hours was down to sheer chance. But luck didn't come into Splash Camp's zero curfew times, incredibly light traffic and the opportunity to go off-road, all advantages found only on private game reserves and, in our case, the source of some extraordinary wildlife footage for The Backbones of Botswana.
Splash Camp safari-style camping for grown-ups
Kwando Safaris are known for their 100% citizen-owned business model, so we were intrigued to experience it in action at Splash Camp, one of their most recent ventures, opened at Private Kwara Reserve in June 2018.
With just 10 en-suite tents and two family rooms plus a team of seven guides and four managers, Splash is intimately sized without feeling cramped. There was no WIFI or phone signal so everyone was decidedly unplugged, like it or not – personally, we loved shutting out the world for a few days.
You can forget everything you know about 'camping' at Splash Camp, this is safari-style, plenty lux and with lots of room for personalisation. Each family room has indoor and outdoor showers, flush toilets and a private veranda. And tents are simply decorated, have mosquito netting round the beds, ceiling fans and en-suite bathrooms. There's a plunge pool and bar in the camp's communal area. But the real stand-out feature has to be the large campfire circle where guests gather in the morning for breakfast before wrapping up in thick blankets and piling into the truck for sunrise game drives.
Supper's eaten family-style at Splash Camp and there's an open bar, so no surprise to find that the atmosphere was very relaxed in the evening, with occasional bursts of excitement depending on who had spotted what on safari.
Meeting Maun's pioneers in person
It seemed appropriate to be spending our final days filming The Backbones of Botswana in Maun, the country's unofficial 'tourism capital' and hub for a growing number of businesses actively involved in community conservation and the development of Botswana's sustainable travel industry.
It only took half-an-hour to fly from Kwara to Maun with Mack Air and then it was a mere 20 minutes' drive to Thamalakane River Lodge on the banks of Thamalakane River. As the river was dry in mid-May we probably didn't see the lodge at its best, but there was still more than a hint of charm in the setting and our bright, airy chalet with en-suite bathroom featured an intriguing 'skylight wall' which kept the space cool but still let in lots of lovely light.
Our minds were still full of the Okavango Delta for our first meeting in Maun, coincidentally with Kwando Safaris, our wonderful Splash Camp hosts over the previous two days.
We were particularly interested to hear about Kwando's Bucket Project, a pioneering initiative set up by Sue Smart, CEO of Kwando Safaris, in 2016 to celebrate the 50th anniversary of Botswana's independence. Most other businesses at the time planned to mark the occasion with parties, but Sue pulled the Kwando team together and invited them to choose between paying for a party or helping the local community. They chose the latter without hesitation and buckets were bought and filled with essentials like rice, tea and sugar plus a 50 pula note and a personal letter from Kwando. Then they were dropped off at 150 homes on the rural outskirts of Maun and Kwando's Bucket Project was born – it's now one of the company's best loved Independence Day traditions.
Kwando also sponsor Mummy's Angels, a grassroots project set up by three local mothers just over a year ago with the aim of providing essential supplies to vulnerable new mums in and around Maun.
We spent the morning with Co-Founder Rochelle Katz, Kwando Safari's HR Manager Thuso Sarefo and Community Nurse Gloria Lottering and heard about the simple and inspired idea of redistributing clothes that tiny babies grow out of so quickly to other new babies. Then we had the joyful experience of visiting new mum, Tsaone Bambo, to deliver a Mummy's Angels' hamper for her new-born baby girl.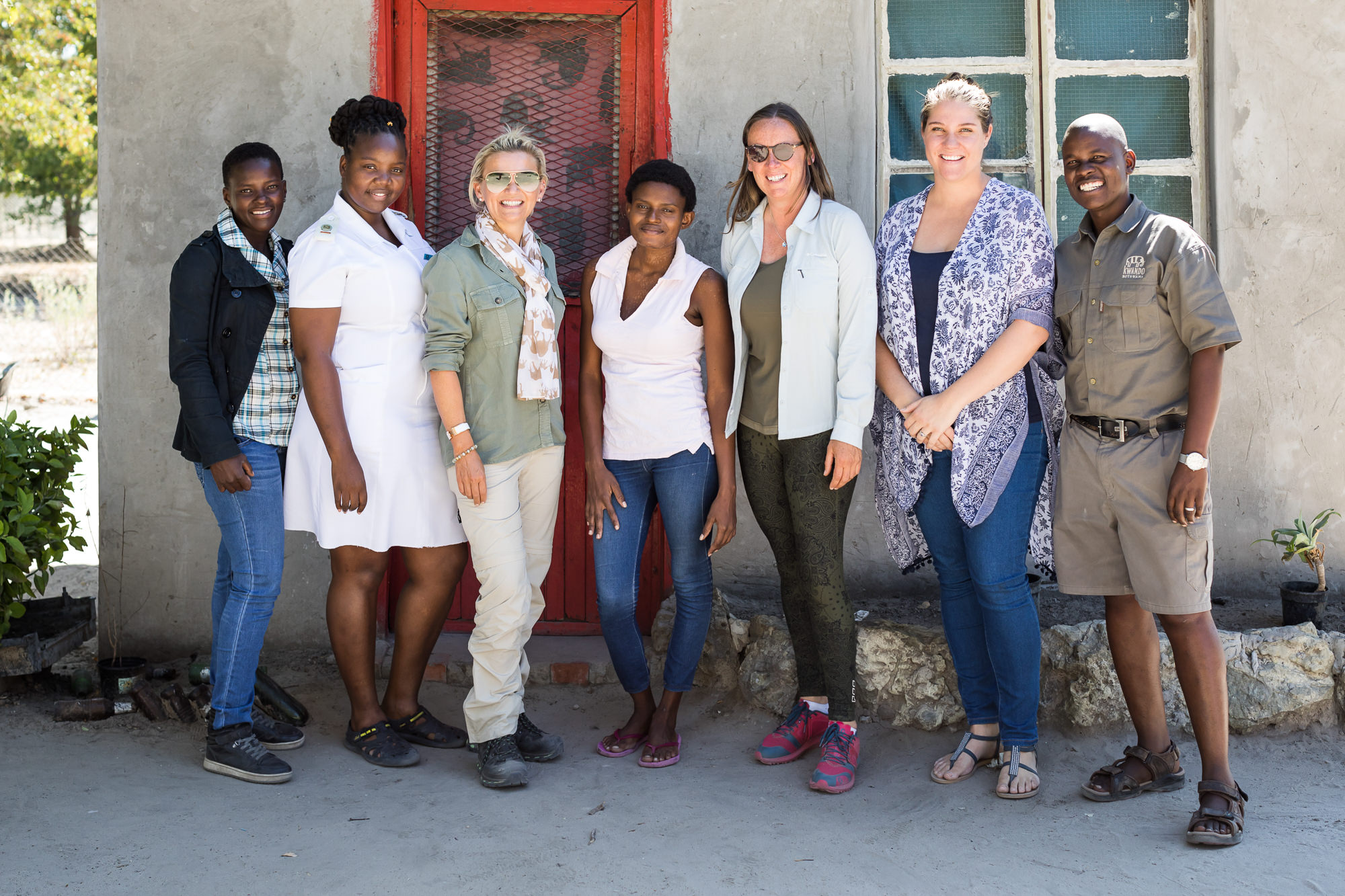 Grassroots projects the world over struggle to raise awareness and that's where responsible businesses really make a difference. Since Kwando came on board, Mummy's Angels has become increasingly well known thanks to the support of Kwando Safaris' guests. Kwando's influence has been beneficial with plans to roll out the Mummy's Angels' initiative across Botswana. And, in addition, the company currently matches every guest donation with a donation of their own: during our visit they were supplying hampers containing a month's worth of food for each new mum.
Talking tourism with Travel For Impact
Ruth Stewart was one more pioneer we were keen to meet in Maun. She's the energetic founder of Travel For Impact (TFI), a dynamic Social Enterprise which links responsible travel business to the community and reallocates funds from tourism into grassroots initiatives.
As she said, 'One of our goals is to encourage donors not to simply donate, but to be hands-on, see where their money is going and how funds are positively impacting communities. For example, Bed Night Bank works in partnership with Safari Destinations and booking agents so when visitors book with them, they automatically donate $1 for every room night and the funds come directly to TFI and are then reallocated into community projects. It seems small, but if every tourist visiting Botswana donated $1 we could raise $300,000 every year.'
Women Against Rape (WAR) is another initiative Travel For Impact supports. Set up in 1993 by Peggie Ramaphane, it provides counselling, shelter and practical assistance to women subjected to any form of male sexual violence. WAR aims to get women out of victim mode and into survivor mode and begin to realise their life ambitions. Like the young women Peggy told us about who dreamed of running a restaurant and with the support of Travel For Impact and WAR went on to undertake training, earned a formal qualification and now works in a local restaurant, lives outside the shelter and is building an independent life.
Today WAR has five in-house counsellors, employs qualified social workers as matrons and maintains a full-time shelter, much of which would not have been possible without the support of Ruth Stewart and TFI.
Hello to Bonty and farewell to Botswana

Before bidding Maun farewell we wanted to meet up with one last local legend, Bontekanye Botumile, or Bonty as she's known the length and breadth of Botswana. One of the country's best loved children's writers, her first book Elephant Story sold 3500 copies in less than a year mainly through the support of safari lodges and camps where international tourists fell in love with its gentle charm and bought the book for kids back home.
Bonty began writing to help safeguard Botswana's legacy of ancient fables and folk tales which were no longer passed from generation to generation in the oral tradition, so she was aware of the irony in Elephant Story's word-of-mouth success.
A born storyteller and pleasure to talk to, there's no mistaking how deeply passionate Bonty is about the rich lore of her country. She's also all about sharing Botswana's fascinating culture, so we couldn't do Maun without meeting this amazing human. These rare opportunities for international visitors to interact with local communities are a Maun must-do and completely captivated us with everything from the glorious traditional food and local arts and crafts, to the singing, dancing and storytelling, courtesy of Bonty, of course.
Filming The Backbones of Botswana opened our eyes, not only to this remarkable country and its people, but to the need for every traveller to take responsibility and pay attention to the small stuff. Grassroots projects and citizen run businesses thrive in Botswana because of the work that's done by places like Chobe Game Lodge and organisations such as Travel For Impact and Kwando Safari's.
It is possible to balance luxury travel and social awareness. It's possible to harmonise community and environmental conservation. It is even possible to make bricks out of recycled glass – as we discovered at Chobe Game Lodge. And it's more than possible to find the backbones of a country when you go with an open mind, ready to hear its story.