When Two Worlds Collide: Collaborative Advantages In New Markets
13.12.2021 | Read
At The Caviar Spoon, we see every day that consumers are overwhelmed with information and have hundreds of choices available to them at the click of a button, marketers are struggling to stand out. 
We have seen brands blow their marketing budget trying to reach, engage with and expand their audience through traditional avenues such as PPC, Out of Home, print, and social media. However, these methods generally commit a significant chunk of marketing budgets with no guarantee of success. It's been estimated that most Western consumers are exposed to between 4,000 – 10,000 ads each day, so it isn't surprising that people are increasingly blind to them, consciously and subconsciously blocking them. New privacy regulations such as the IOS 14 update and Google's upcoming ban on cookies make it even harder for brands to reach their target audience. 
Our question is, why pump money into methods that your audience is blind to? Or advertising that will never even reach your audience? Why not go back to being creative and use your marketing to shock and delight your target market, and see some phenomenal results while you're doing it? That's where collaborative marketing comes in.
According to Highsnobiety's Editorial Director Christophe Morency, "brands aren't companies, they are universes" assigning meaning and relevance by building up and shaping the context around them, creating a constellation of cultural associations and connections to help them grow beyond their core market.
So, to reach new audiences while delivering the authentic brand experiences that consumers crave, we see more and more brands turning to strategic collaborations and brand partnerships. 
What makes a brand collaboration work?
Brand collaborations are widely considered the art of the perfect match. This match doesn't have to be an exchange of economic value; in fact, this is rarely the case. It's all about sharing, co-creation, innovation, and commitment between partners.
A successful brand collaboration will often involve:
Similar values and cultural synergy

A mutual benefit with clear expectations for each party

A well-thought-out collaborative campaign 

Trust and transparency between partners

Complementary skill sets 

Meaning and purpose behind the collaboration
In this article, we're taking a deeper look at some unexpected brands that have teamed up to reach new audiences. 
IKEA X DREAMWORKS
The collaboration: 
Following IKEA's 2015

Play Report

which proved that children and adults alike want to play more in their homes, the home furniture giant created the Lattjo collection; a range of toys to play with at home. 

IKEA wanted to reach children and their parents to play more and create a playful mindset. 

They partnered with Dreamworks to bring their new range of children's toys to life in a fun, playful way. 

Dreamworks created a number of playful 2D stop motion animation movies that delved into the world of the Lettjo characters. 

Brian Robinson, the global head of creative design and animation at Dreamworks said, "We were inspired by the creative challenge to bring these characters to life for Ikea customers around the globe."
The results: 
The collaboration created global media attention for both brands, promoting the Lattjo collection to children and parents around the world when it was launched in November 2015. 

IKEA went on to increase its global sales by 7.9% in 2016. 
Our take: 
This collaboration worked perfectly because of the two brands' shared values and synergy throughout the project. This strategic alliance now provides IKEA entertainment resources and 21 years of storytelling expertise to bring their characters to life. Furthermore, script premises, in true DreamWorks form, convey that stories will be engaging for older audiences and entertaining for all, adding to their all-age value proposition.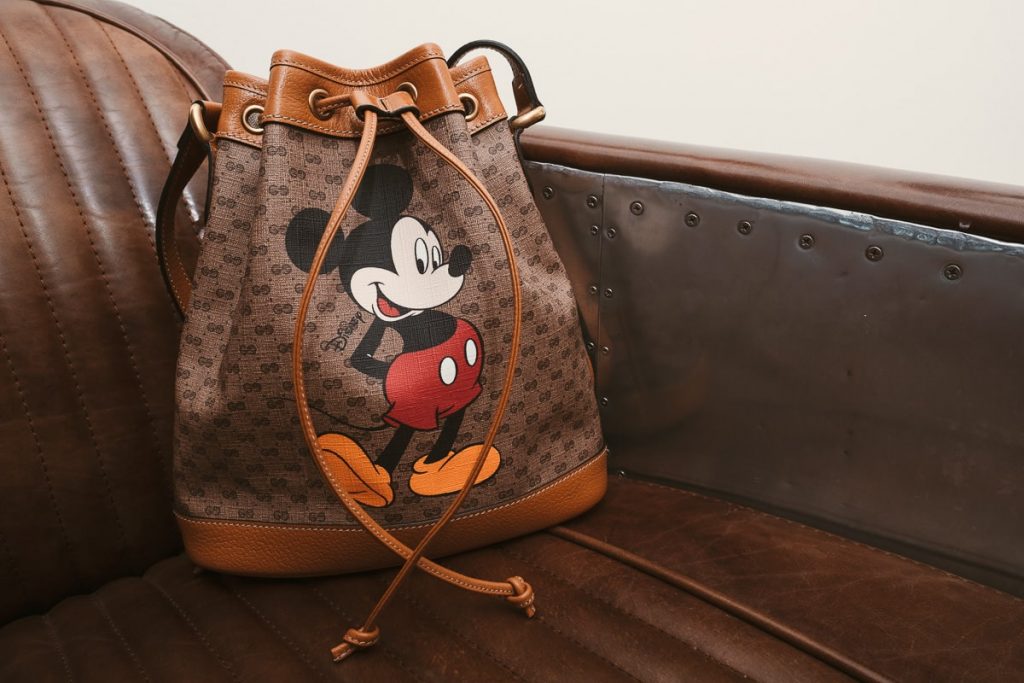 GUCCI X DISNEY 
The collaboration: 
In 2020,

Disney teamed up with Gucci

to celebrate the Lunar New Year. Alessandro Michele, the creative director of Gucci, utilized Mickey Mouse as the central focus to celebrate the Year of Rat. 

On January 3, 2020, Disney pushed out a short campaign video titled "Gucci Chinese New Year Campaign: #Disney x Gucci." The short one-minute clip clearly set the foundation for the campaign's success.
The results: 
The pieces from the collaboration collection were priced between $210 and $6,300, much higher than Disney's solo-branded products.  

The

collaboration was popular enough to spawn several spinoffs including a

Donald Duck collection

.
Our take: The collaboration allowed Disney to tap into China's growing appetite for luxury brands. According to a report by The McKinsey Group, China is responsible for more than half of the global growth in luxury spending over the past 5 years. That number is expected to grow to 65% by 2025. The partnership also attracted three key demographics for both Disney and Gucci; millennials, people who celebrate the Lunar New Year, and individuals who adore Disney. 
GOOGLE X LEVI'S
The collaboration: 
In 2017, Levi's began to revive their brand to make it more appealing for younger generations. At the same time, Google was trying to find a clothing brand they could partner with to introduce a new style of wearable technology, smart jackets.

Google and Levi's collaborated on Project Jacquard which enabled everyday objects such as clothes or furniture to be transformed into interactive surfaces.

The jacket enables wearers to perform tasks like changing music, blocking or answering calls, and accessing navigation information with touch interactivity. 

The smart jacket is connected to the cloud, as it comes with a mobile app where users can manage other software that will work with it.
The results: The jacket certainly made headlines when it was introduced to the market. "I think that Levi's new commuter jacket is tremendously exciting. It's not necessarily the functionality that's impactful, but more so that the garment is produced using Levi's existing supply chain," said fashion technologist Maddy Maxey of The Crated
The Google and Levi's Jacquard is significantly cheaper than other wearable technology, retailing at $130. 2017 was the strongest fiscal year Levi's had seen in a decade. 
Our take: This is a perfect example of two brands mutually benefitting from what the other could offer. Levi's leveraged Google's technology and reputation to break into the millennial and tech-savvy market at a time when they were trying to reach new, younger audiences during their brand revival while Google benefited from using Levi's distribution line – the jacket was sold in Levi's stores worldwide and their website – and innovative design team.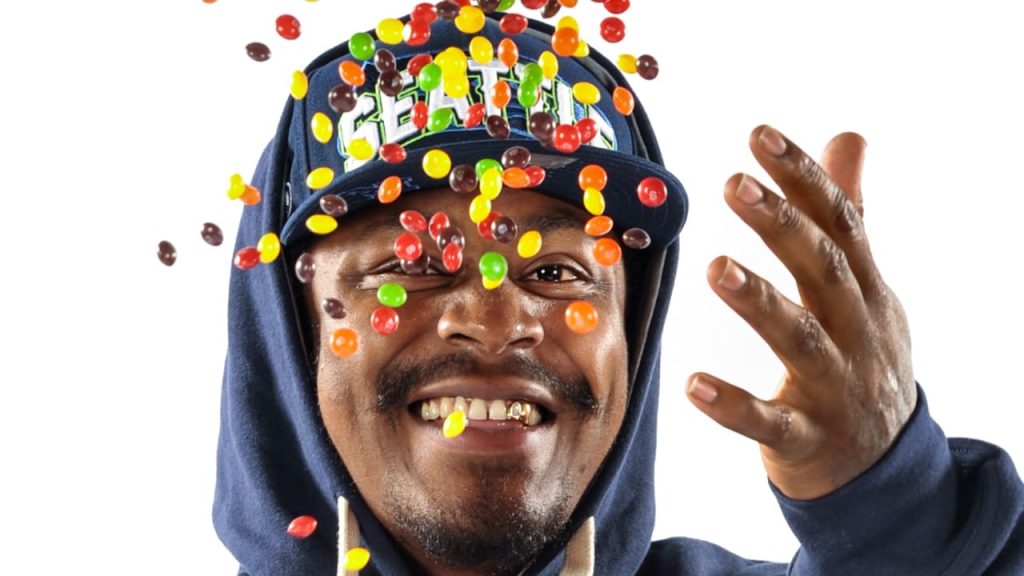 SKITTLES X THE SEATTLE SEAHAWKS 
The collaboration:
The great Skittle craze of Seattle began in the year 2011. The fan-favorite football star Marshawn Lynch was caught on camera having skittles poured into his hands on the sideline. 

Once the internet got hold of the video, it quickly went viral catching the attention of the Skittles brand who struck a deal with Lynch.

In 2014, Skittles announced their limited edition Seattle Mix which would feature only candy in the team's colours, and packets with Marshawn Lynch's face on them.

Skittles mania hit Seattle with businesses all over the city running out of the candy while fans showered Lynch with Skittles after every match. 
The results: Skittles is America's favourite non-chocolate sweet but it is particularly favoured by older generations. Becoming so prominent in the NFL allowed Skittles to get in front of a more youthful audience who could continue the love of America's favourite candy.
Our take: Skittles saw an opportunity beyond the free publicity they were receiving from Marshawn Lynch and leveraged the NFL's popularity with younger generations to reach a new audience. 
EVA AIR X HELLO KITTY
The collaboration:
Taiwanese airline EVA Air and Japanese pop culture icon Hello Kitty offer

flights out of Taiwan

to a number of global destinations in a Hello Kitty-branded plane with an interior filled with hundreds of Hello Kitty items. 

Sanrio, the official home of Hello Kitty, initially approached Eva Air about selling Hello Kitty branded merchandise in-flight.  

EVA Chairman KW Chang, a visionary leader of a successful Taiwanese company, had a bigger idea. 

Instead of merely offering products, the airline and Sanrio collaborated to create a fun-filled immersive Hello Kitty and Friends travel experience.

In 2020, when most international travels were grounded, the two even worked together to offer Michelin Star meals on the plane while flying in a circle around Taiwan's Songshan Airport in their

'Flight to Nowhere' campaign

.
The results: The collaboration became an instant success with passenger bookings on the Hello Kitty Jets approximately 3% higher than Eva Air's regular aircraft and inflight duty-free sales of exclusive Hello Kitty and Sanrio items climbed to $3 million a year.
Our take: The unlikely duo experienced a successful partnership due to strong leadership and shared values. Chairman Chang reviewed every detail and surprised Sanrio by investing significant resources into the co-branding program. Both companies emphasize customer service, quality products, and excellent customer experiences and both had different customer bases, and working together meant sharing their customers with each other. Ultimately, they understood that the focus had to be their customers.
In today's ultra-competitive environment, brands are continuously looking for new ways to grow in the marketplace. Collaboration with strategically aligned partners can help brands grow by reaching new markets.
One limiting factor in creating collaborations is finding the right brand to partner with. With The Caviar Spoon's innovative brand collaboration platform, you can find your next collaboration partner using our proprietary algorithm. Find out more about our complimentary membership here.