JOHANNESBURG'S ECCENTRIC VICTORIAN DELIGHT: GENTLEMEN'S ARTHOUSE
10.05.2017 | Read
WHAT WE'RE TALKING ABOUT: GENTLEMEN'S ARTHOUSE
Well, it's about time we spread our Caviar coverage to Johannesburg, now isn't it.
And we have such an awesome place to share with you as our inaugural South Africa review…
Welcome to the Gentlemen's Arthouse, a fabulously eclectic dining venue hidden away in a corner of Joburg's inner city that is only open to the public on Thursdays (for now). The rest of the time, it's a private event space. I don't want to call it a restaurant because that sounds too generic. It's more like a secret supper club slash bespoke cocktail bar that you only know about because you've heard whisperings of it from someone else (who heard about it from someone else). If the Gentlemen's Arthouse were to send out dinner invitations, they would be the kind delivered on thick, luxurious paper, complete with a wax seal.
Intrigued? So was I.
The first thing you need to know is that the name is a play on the words "gentlemen's outhouse".
Oh yes, the building that now serves decadent 6-course meals and artisanal cocktails had a former life as a 1911 men's lavatory before falling into neglect and disrepair.
Maira Koutsoudakis, founder and principal of award-winning design and hospitality company Life Group, saw the massive potential of the rundown structure and, together with her design team, cleaned it up whilst keeping as much of its original character as possible (like the lust-worthy green wall tiles).
I had heard rumblings about it for the past year or so as different media outlets covered the rather extensive renovation project, plus I was familiar with The Potato Shed and Life Grand Cafe, two other restaurants under the Life Group umbrella. But even though I did a fair amount of Googling and visited their website over and over again, I still couldn't quite figure out what it was all about.
So I announced to my foodie partner-on-crime to clear his schedule on a Thursday evening because we were going out to dine in a former men's washroom. Upon hearing the words "former men's washroom", he raised his eyebrow and gave me a look that said, "this better be good".
THE REVIEW
GETTING THERE
Gentlemen's Arthouse, you were not easy to find. At least not for someone like me who gets turned around very easily! The venue is located in Newtown, one of the inner city suburbs going through some massive urban renewal. This particular section holds a shopping mall, a smattering of restaurants, and a hotel, and I realised that, although I had been in the area before, not once had I noticed an old men's washroom.
After a good 15 minutes of roaming around looking for a secret entrance (and me tottering in heels), we peered down a nondescript gated side street between the hotel and shopping mall. Not seeing anything, we were just about to turn around and call the place when a smiling security guard came strolling towards us from the other side of the gate and inquired "You're looking for Gentlemen's Arthouse?"
PHEW!
We followed him through the gate and a few metres in, nestled right at the base of a set of stairs leading to the modern mall, was the small historical structure. What an odd juxtaposition of architecture and eras! This Victorian building looked completely out of place but somehow, it worked and just added to the quirkiness of it all.
FIRST IMPRESSIONS
The narrow double wooden doors were open and we could see and hear staff just inside. At the entrance, we were handed a welcome cocktail in a cut glass flute before being led through a heavy, dark green velvet curtain. The transformation as we crossed the threshold was immediate—we were transported away from the urban grit, noise, and concrete of Joburg and placed smack dab in the middle of an eccentric decadence of another era.
Given a choice of tables, we opted for the one with the urinal seat (of course) and surveyed our surroundings as we settled in. I looked around as I sipped on the refreshing brandy-lemon-cinnamon cocktail, the warmth of the spice perfectly offsetting the chilly nip in the air outside. The tables were set with heavy silverware and we were immediately brought silver trays of palate teasers. I wouldn't be surprised if the cutlery and serveware were discovered and bought at an estate sale or antique shop.
The interior reminds me of a vintage peacock. Green is the theme here, with the stunning original emerald wall tiles taking the lead. In the centre of the small room is a circular velvet banquette in a muted, dusty green. The urinals-turned-seating line the walls on both sides and are upholstered with dark teal velvet and the small round tables are swathed in forest green velvet tablecloths that pool onto the floor. In the two corners at the front are round booths tucked away into their own cosy space offering a bit of extra privacy.
At the far end is the bar with ornate pressed tin side panels, old-school wooden stools, and a brass countertop with a lovely patina. Behind the counter, gold pineapple cocktail shakers are arranged in a row and the glass shelves are filled with a selection of bottles. The side shelves and top shelf are reserved for skulls, photographs, and other curios, with a lion head keeping a watchful eye over everything.
Make sure you walk around because every wall, nook, and cranny is decorated with something and don't forget to look up, either. There's also a handsome collection of South African art for those in the know. It's a complete visual feast and I have a feeling that you discover something new every time you visit.
The thing about Gentlemen's Arthouse is that it hasn't tried to completely remake the space into something sparkling and modern. They've preserved the character and integrity of the building—the upper part of the walls are left unfinished and the cathedral windows are still in place—and anything new has been carefully inserted in a way that honours the Victorian era building and maintains the mood of days gone by.
The kitchen is actually in another small structure out back, as are the bathrooms—a decision that was made due to heritage building laws and wanting to maximise the space in the best way possible.
STAFF & SERVICE
All the servers were dressed top to toe in black and they seemed to melt away into the background in the moodily lit space. Each course was brought out quickly and announced quietly and the servers disappeared from the table just as swiftly as they appeared. My friend and I mulled this over, initially wishing that the service was a bit more dynamic—perhaps with more charisma and chitchat. It was that kind of vibe, after all.
But then we realised that it's all part of the experience and ambiance here. When you're at Gentlemen's Arthouse, the focus isn't on the people. The servers are the stagehands, there to keep the performance running smoothly and to make sure no one looks behind the curtain to break the spell. They want you to get lost in good conversation with your dinner companions as you nibble through the courses, indulge in a few cocktails, and let yourself feel a million miles away from modern day reality.
I have to give a special shout-out to Melton and Vusi, the two quiet but charming servers who discreetly kept an eye on our table and were never more than a glance or quick wave away. Also, thank you to Kyle, the floor manager who, like the rest of the staff, stayed in the background but constantly scanned the room throughout dinner, making sure nothing went amiss and all of the guests were enjoying themselves.
THE FOOD
The seasonal menu here is the doing of dream team Chefs Jeanel Pieterse and Marc Proenca. Inspired by Edwardian cuisine, all six courses (seven if you count the palate teasers), were served in unique ways, each with their own nod to the Victorian era.
The tray of palate teasers held nuts in a bombe (a candy sphere cracked open to reveal nuts inside), truffle oil popped corn (completely addictive), and Riebeek Kasteel and Nero olives. We eagerly grazed our way through these goodies as we waited for other tables to arrive so that the dinner and entertainment could begin.
Then came the amuse bouche – lobster with red onion, baby spinach, sweet melon, rose champagne, coriander, and pink peppercorn sorbet. The lobster was sweet and delicate and the sliver of red onion provided a tangy contrast. This was followed by "Queen Vic's Son", a plate of melt-in-your-mouth beef carpaccio accompanied by pistachio mustard milk emulsion, avocado creme, parsnip crisps, caper berries, and a bite of crisp phyllo. What a dream this was with its variety of textures and flavour contrasts!
Next was "Salmon Civilité", which had me gobbling down the tender olive oil poached salmon topped with a square of crispy salmon skin (yum!). Served with it were green pea crème, edamame and spring pea quinoa salad, and saffron beurre blanc. We both saved the crispy salmon skin for last and upon popping it into our mouths, exchanged satisfied smiles.
Out came the palate cleanser – a little glass with a dollop of lime and yuzu sorbet topped with grape and cucumber gazpacho and a delicate violet. The surprising mix of flavours caught me off guard but did just the trick to prepare me for the final stretch.
The main course was "Hancock's Bone", a veal fillet prepared medium-rare and gorgeously tender. The bone marrow, served cross cut, was rich but difficult to dig out. I secretly wished that it had been canoed so I could eat it a bit more delicately rather than using the tip of my knife like I was trying to get the last bits of jam at the bottom of the jar.
Finally, dessert. By the time the "Turkish Bathhouse" came out—a silver tray with domes of lemon pannacotta, raspberries, basil crumble, and a shard of white chocolate glass – I was ridiculously stuffed. Luckily, this dessert wasn't overly sweet or rich, and the lemon, basil, and raspberry flavours were refreshing and much needed after the rich entrée.
The drink menu is limited but carefully curated to offer a variety of specialty cocktails, and select wines and spirits. The cocktails all had quirky names like "Jimador's Lament" and "Cobbler By Firelight". I chose "The Historian's Quest", a concoction of KWV 10 year brandy with emperor's shrub, a squeeze of lemon, nectar, and some bubbly. It was lovely and refreshing and would do well as an aperitif but I found it a bit too sweet and light for the meal. After finishing it off, I opted for a double brandy to take me through the rest of the evening. 🙂
ENTERTAINMENT
In between the courses, we were treated to some gorgeous entertainment. First up was Flamenca Rosa, a belly dancer in shimmering silver who performed a candelabra belly dance (shamadan). She sensually shimmied across the room whilst gracefully balancing a candelabra on her head. If you've never seen this before, you must!
During the second half of our evening, Miss Oh, a burlesque dancer, coyly danced around the tables as she performed a striptease, leaving items of clothing here and there, including a long lace glove on my friend's shoulder. Don't worry, this hardly reached scandalous levels as Miss Oh cheekily left the rest to our imagination.
The vibe was upbeat and buzzy during the performances and throughout the rest of the evening, a wonderfully eclectic soundtrack played on in the background.
FINAL THOUGHTS
A night out at the Gentlemen's Arthouse is a complete treat and an experience like no other. If the characters from The League of Extraordinary Gentlemen lived in 2017, this is where they would hang out, swapping tales, plotting their next adventure, and just having a grand old time.
But really, this is just one of those places that is best experienced in person…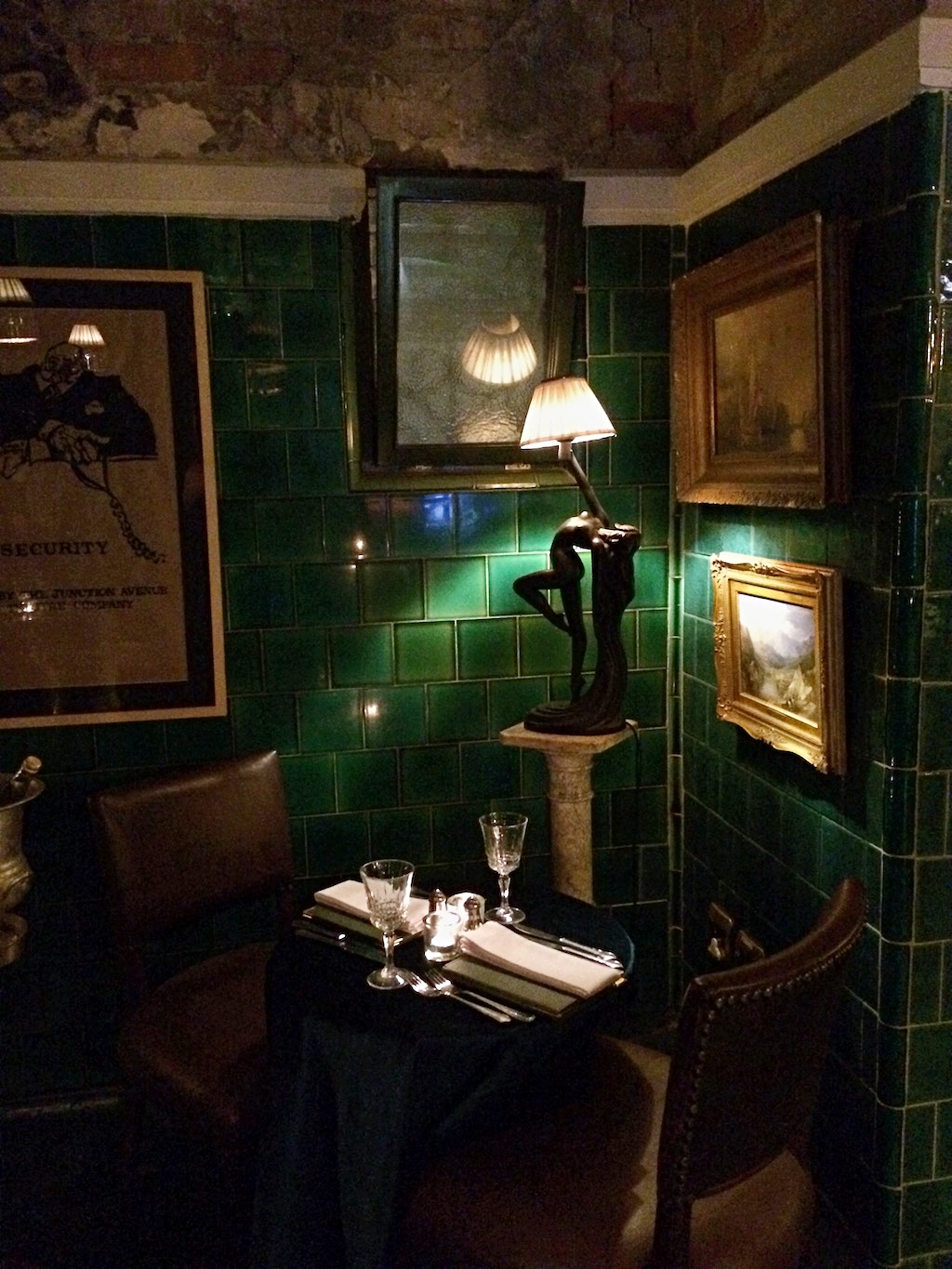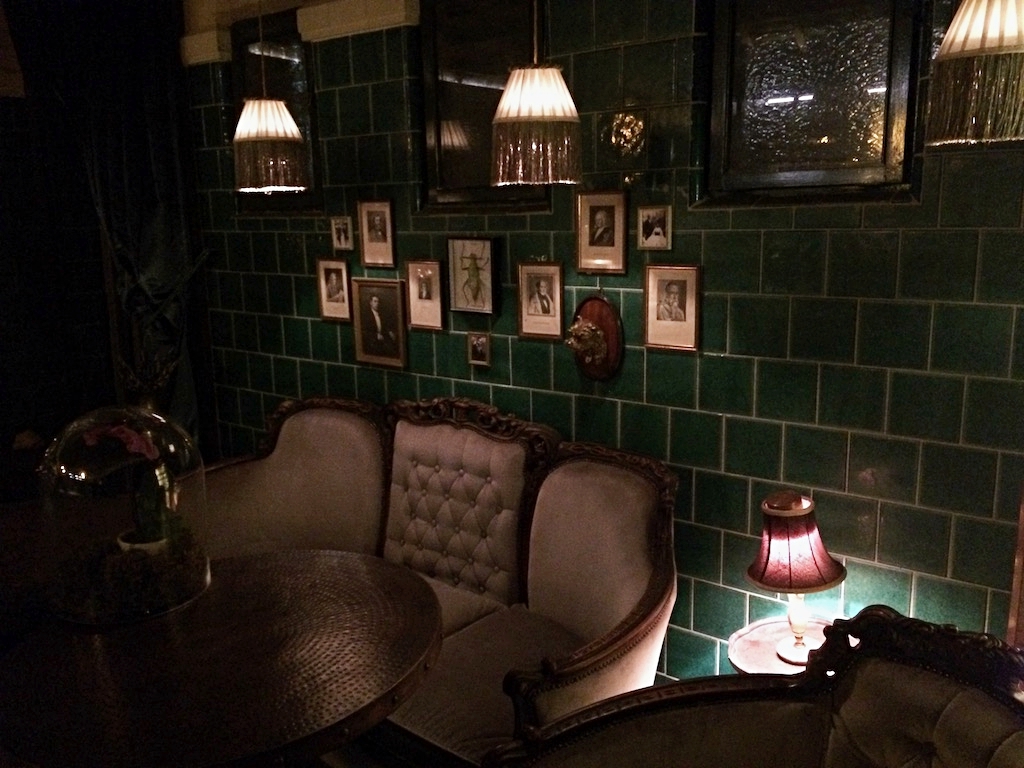 CONNECT
100 Carr Street, Newtown, Johannesburg
Website | Facebook | Instagram