Galvin Dubai's 'Flavours Of The Sun'
03.05.2018 | Read
Meet Galvin Dubai
A few months ago, we were invited to experience Galvin Dubai, a relative newcomer (it opened at the tail end of 2017) to The Square at the vibrant City Walk. Whilst everyone was still on a detox from the holidays, Pra scooped up fellow #ReBelleBoss Anna Royall-Smith (read more about her here) for a retox!
This UK-import is from the reputable Galvin Restaurants, founded by Michelin chef brothers Chris and Jeff Galvin. If their names sound familiar, it's because they already have another popular restaurant, Demoiselle, also located at City Walk.
The Galvin Restaurants are known for their French cuisine with an English twist and a classic elegance that has kept the restaurants as a recognised name throughout the UK. But now that Chris and Jeff have crossed into international territory, they've changed things up a bit.
Although Galvin Dubai retains its French-English touch, they've also catered to their new audience by adding a Mediterranean basin flair. That means homages to Italian, Southern French, and North African cuisine in what they call "flavours of the sun", which is the perfect way to describe the menu that's been created for Dubai.
As for City Walk, as it continues to grow and develop, I think it will be like the DIFC Gate district over time. There are a vast number of eateries throughout City Walk but there are only three in The Square which is the licensed dining area within this vast complex.
(Get to know Chef Luigi Vespero in our #caviarcuts piece here!)
Style & Service
When you step into the dining room, you're surrounded by an earthy palette of browns, blues, and greens (including live foliage for an indoor/outdoor feel) which are offset by the gleam of the brass light fixtures and trimmings. The restaurant's design deftly mixes traditional with modern, using dark wood against richly coloured velvet banquettes, brass finishes and marble, sharp geometric lines on the ceiling with the softer curves of the chairs.
It's glamorous without feeling pretentious, but still keeps a sophisticated vibe that caters for anything from business dinners to girls nights. The service is exactly as one would expect from a Galvin restaurant. Attentive without hovering, our server checked in on us regularly, and Chef Luigi himself stopped by to say hello and pose for a photo with us!
No sooner had we finished dinner here than I decided it would be the perfect venue to host a networking dinner for a group of women who I knew would benefit from connecting with each other. The staff came through again with spot-on service and Chef Luigi created a custom seafood platter for us. He also came out to have a proper conversation and a laugh and since that evening, at least three of the ladies have returned and experienced the same level of service and charm.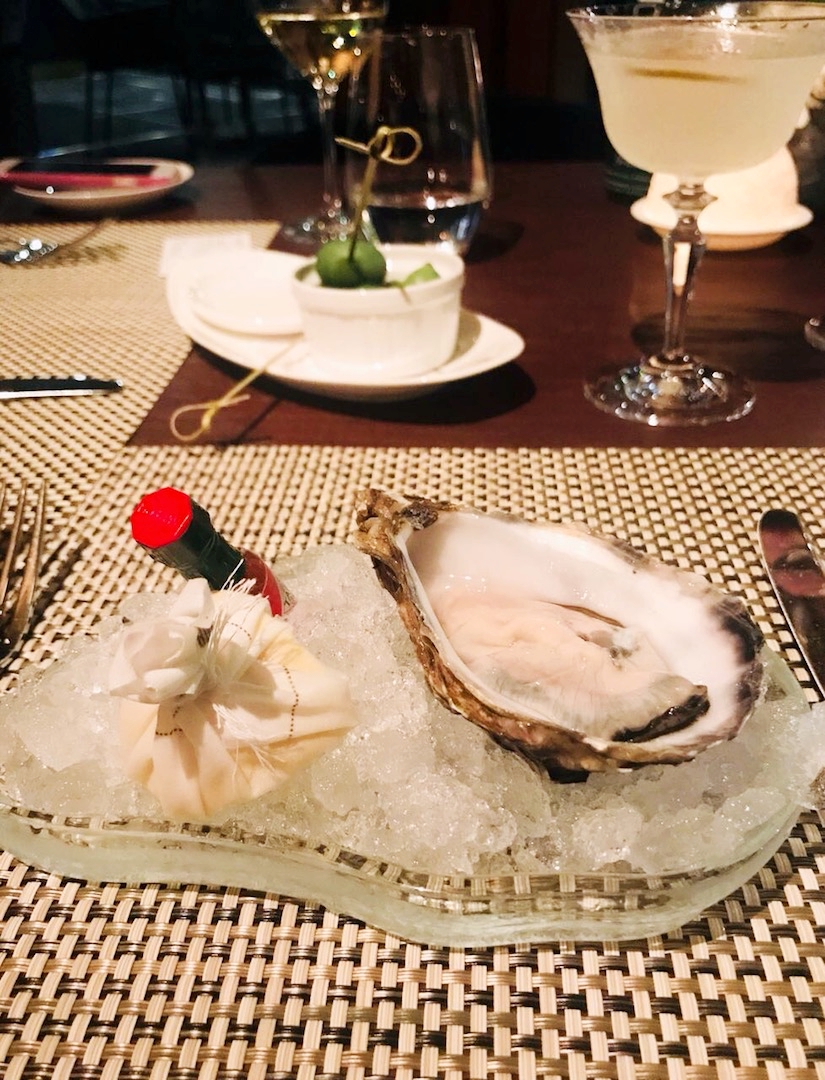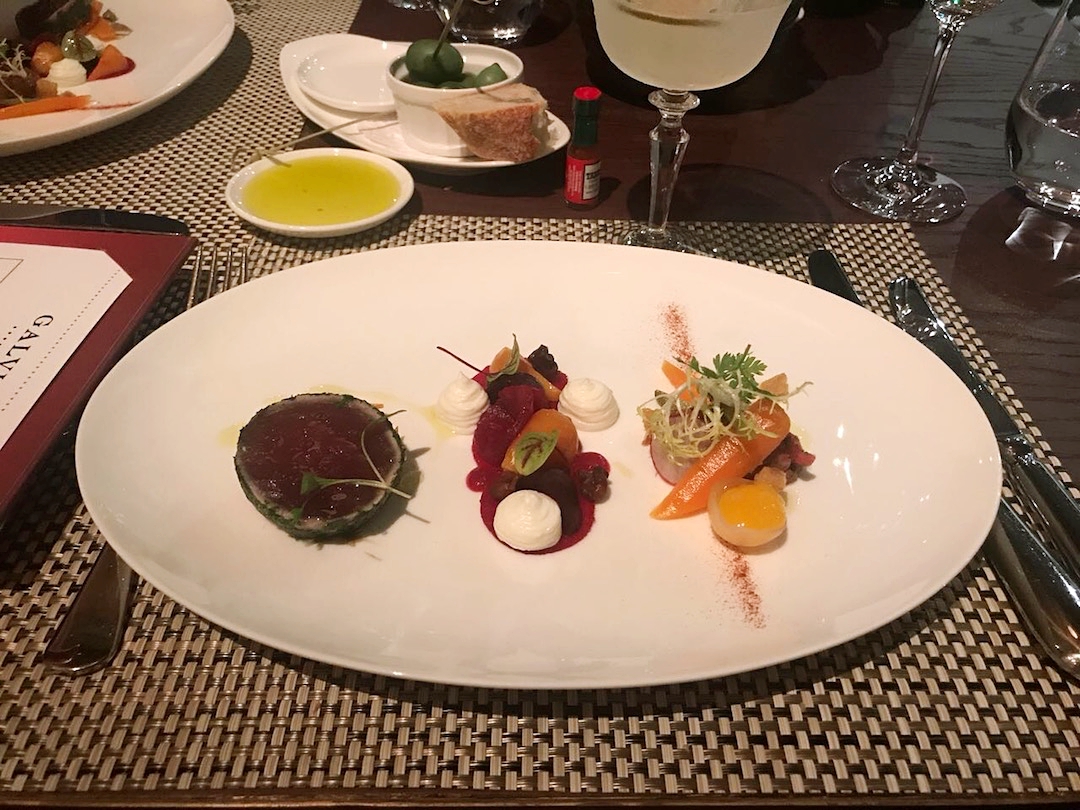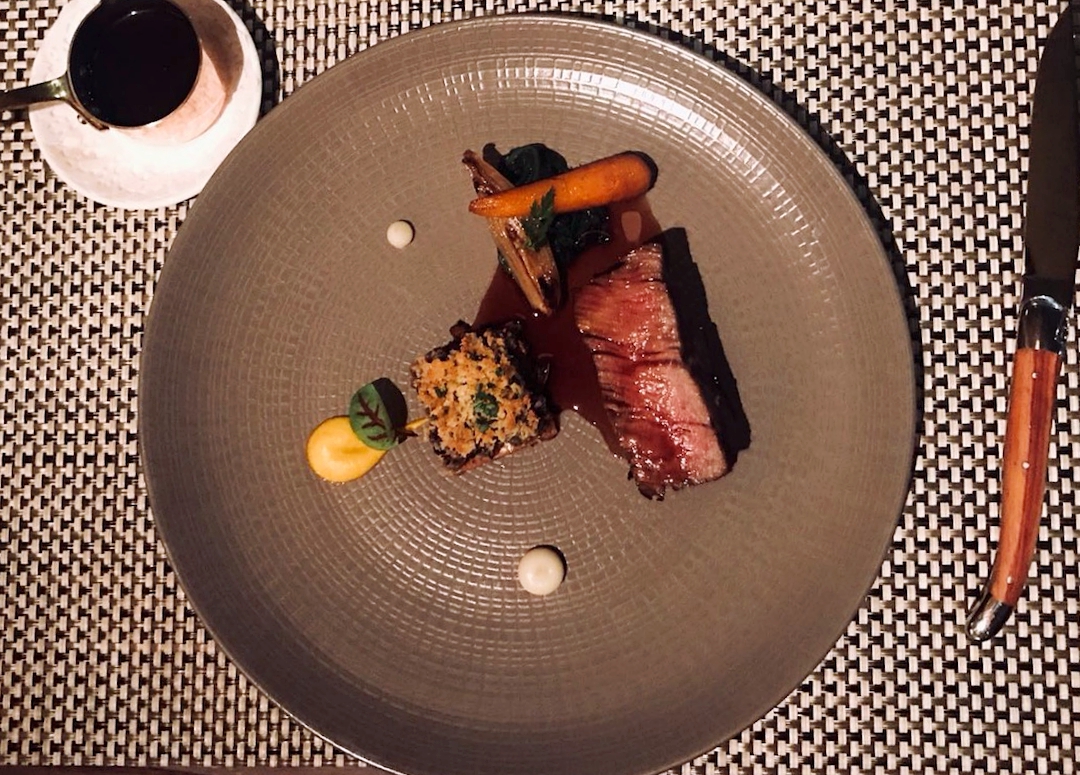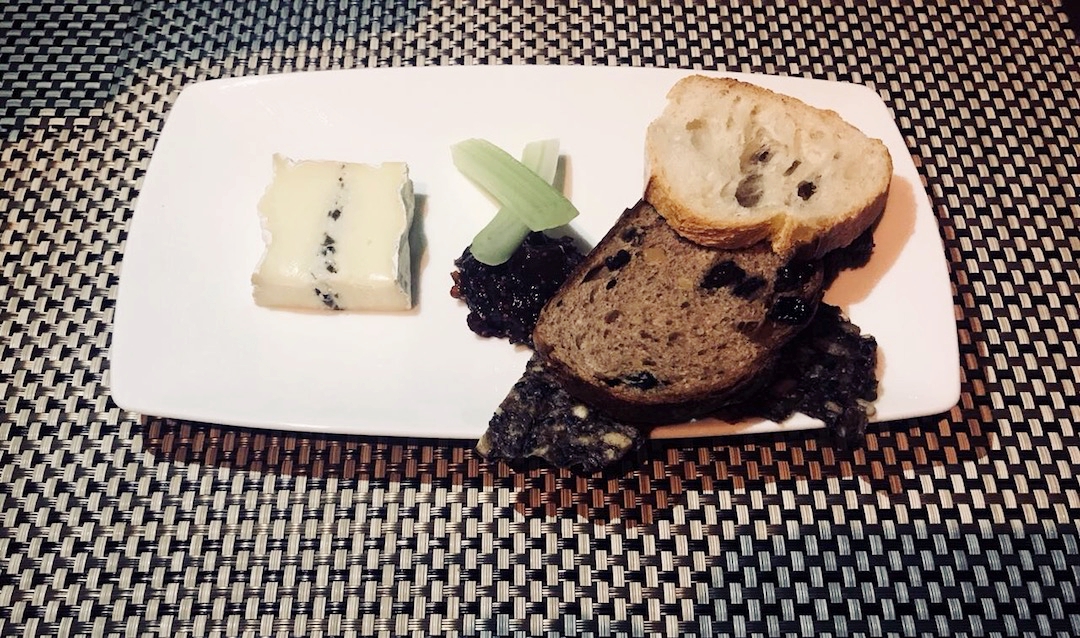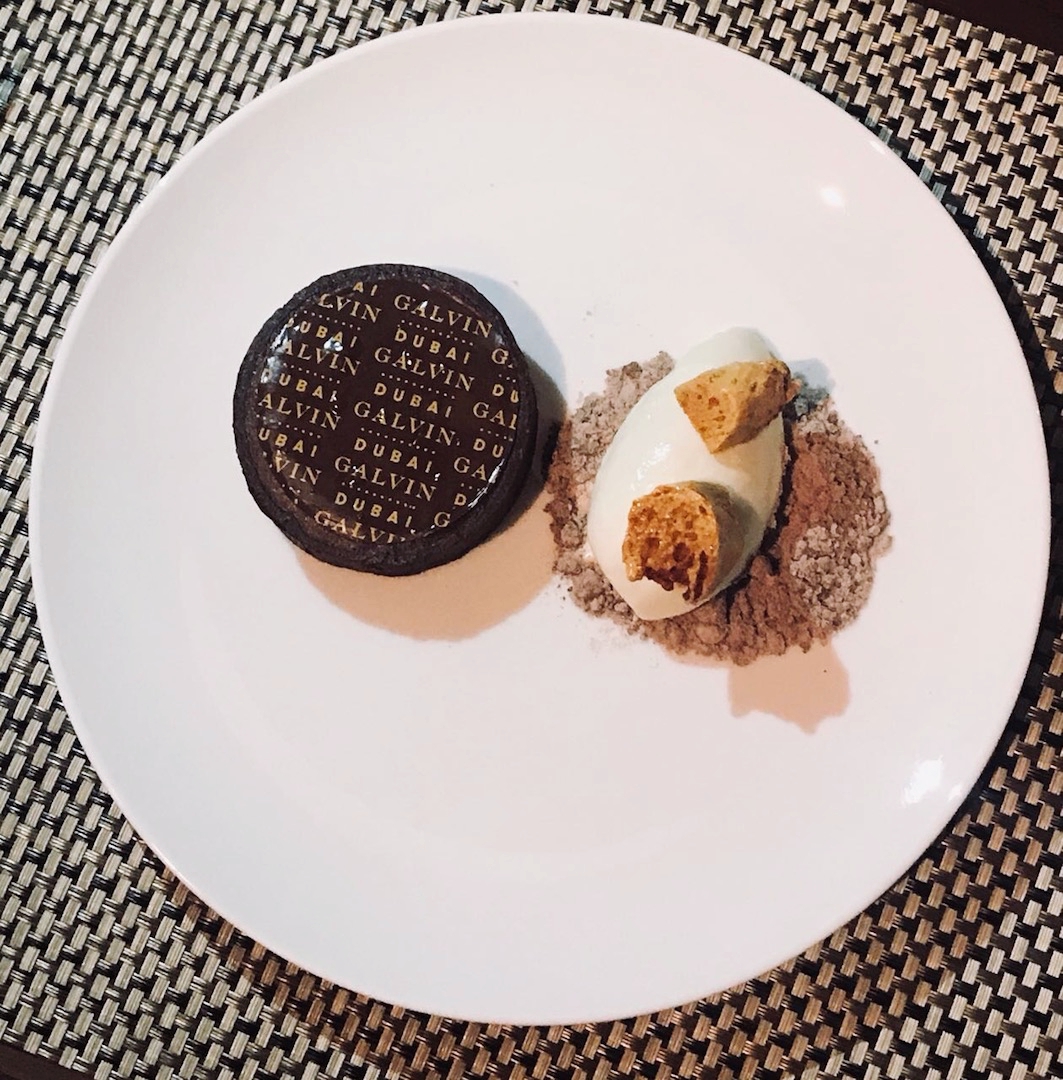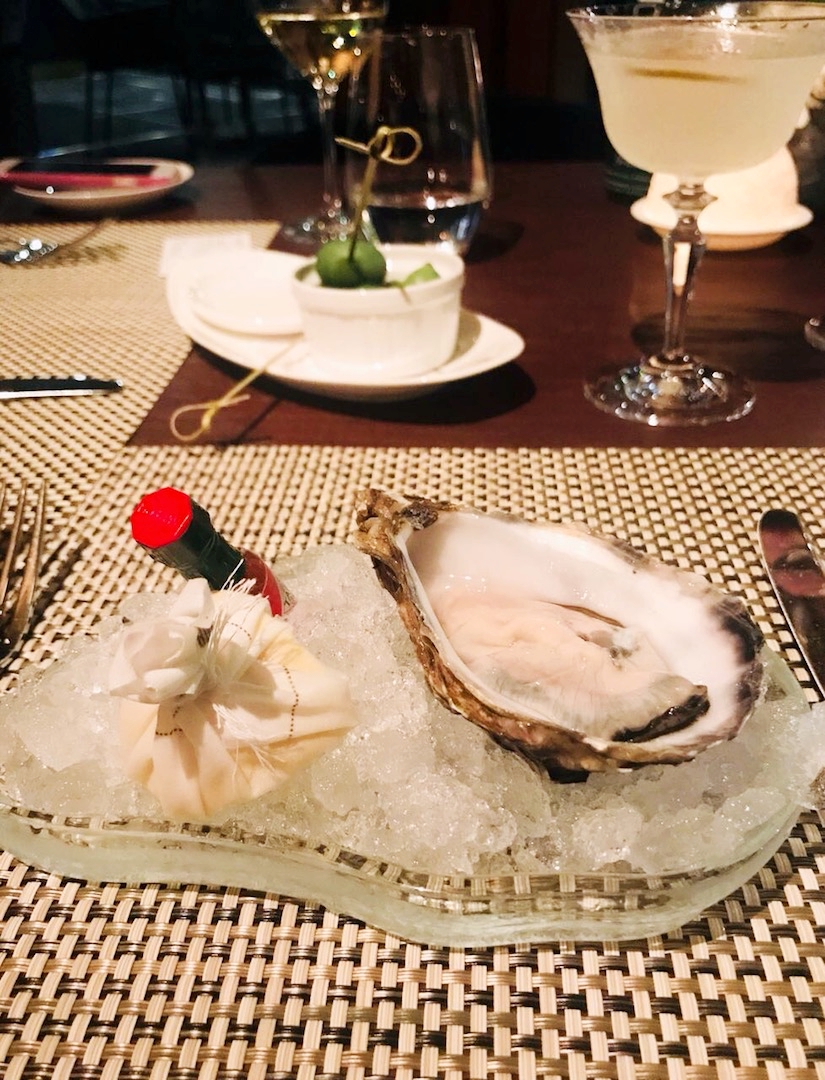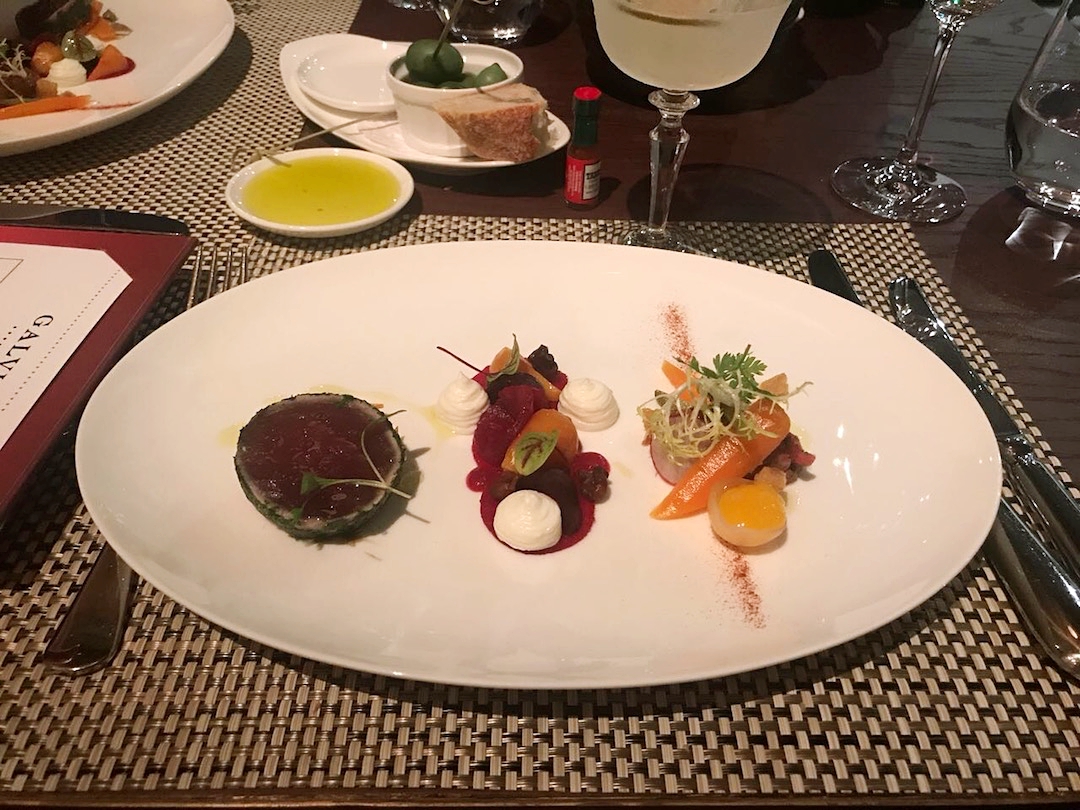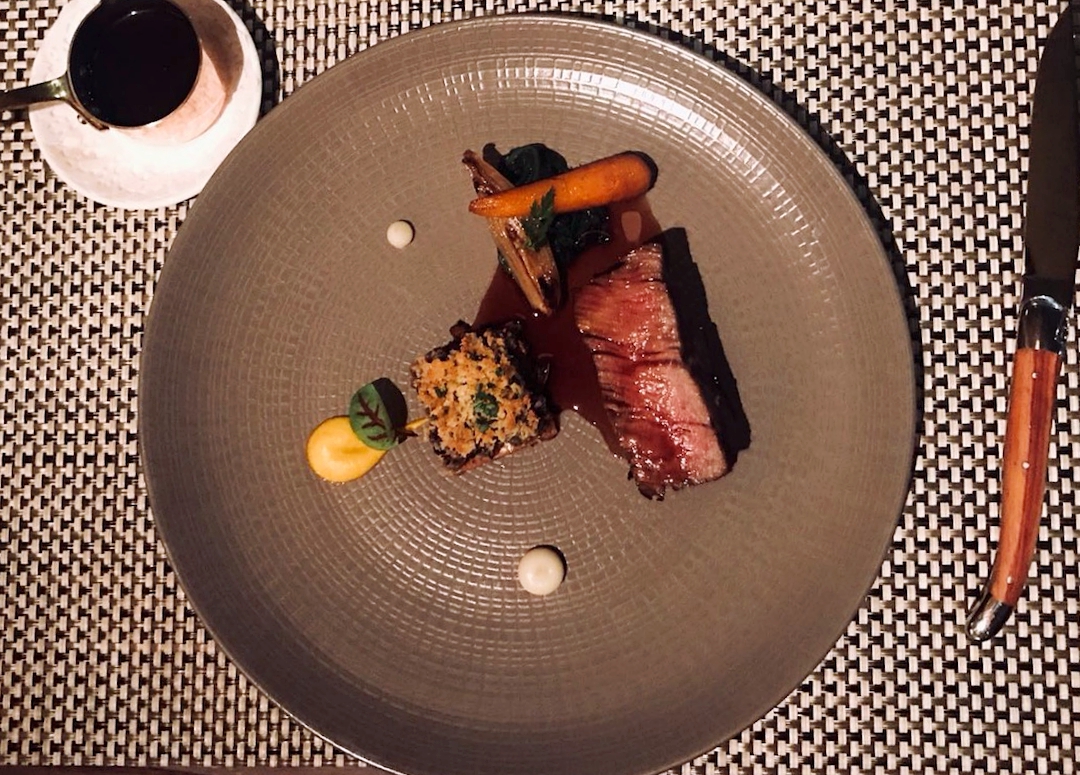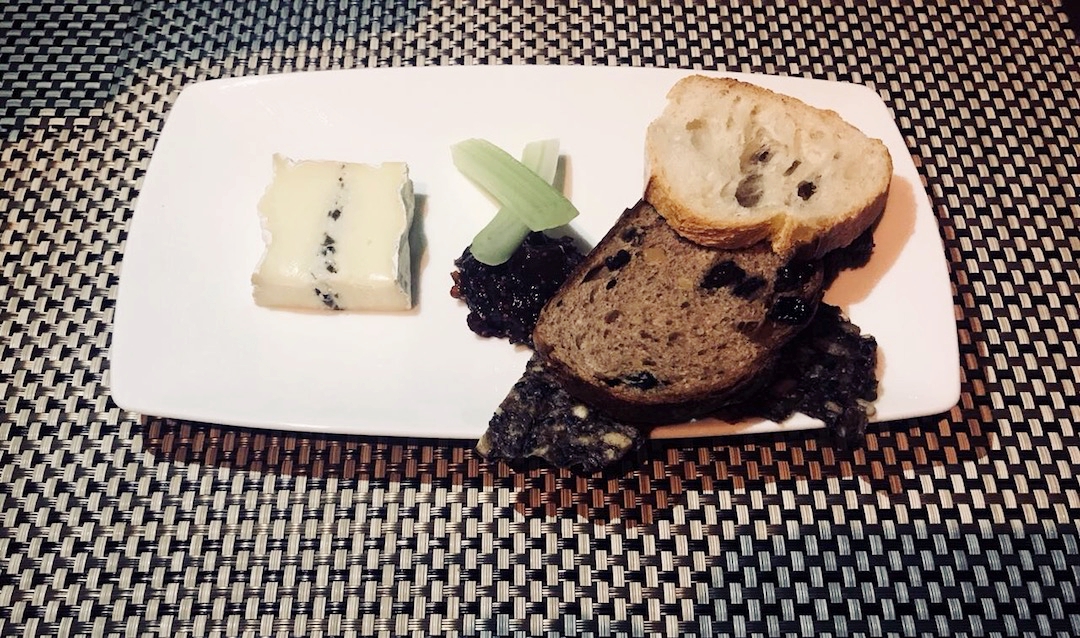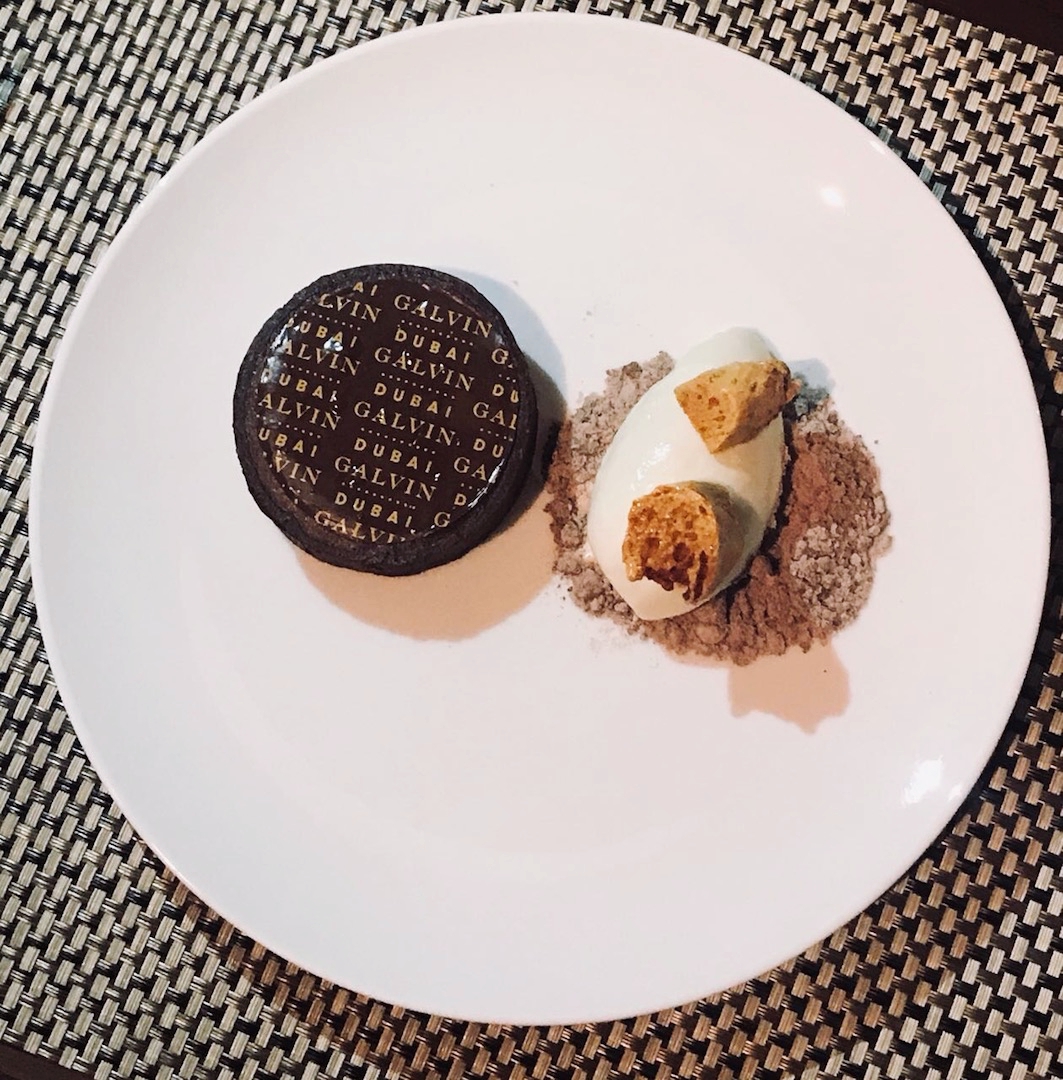 Nibble
Galvin Dubai is the grown-up brother to the bright and sophisticated cafe that is Demoiselle. There is a vibe of laidback luxury here with a menu that covers everything from Ossetra caviar served with all the traditional trimmings to dishes reflecting the "flavours of the sun" concept, like the lamb tagine with couscous, aubergine puree, confit lemon and harissa.
The evening Anna and I dined there, we grazed our way through the "Menu du Chef", a 6-course set menu. Tasting menus can be daunting but we took our time (after all, the menu advises at least two hours!) and savoured course after course!
We started with an oyster amuse bouche, which came with its own mini bottle of Tabasco and was a fresh and briny delight. There's actually a large crustacean counter next to the kitchen which displays an impressive array of seafood.
The Trio of Signature Starters included steak tartare, escabèche of yellowfin tuna, and organic beetroot salad. Fresh and flavorful, they were beautifully presented side by side on a plate, in a trio that you might never think would work together. The following two courses, the seared foie gras and a crab lasagne in a bisque, where rich both in texture and flavour and devilishly delicious.
When I saw that the fourth course was beef tenderloin, I wondered if I might even be able to finish dinner. Thankfully, the plate held a delicate cut cooked to a perfect medium-rare with a small indulgent square of a wild mushroom and bone marrow tart.
Then we approached the end of the meal where you can see both the French and English influences. The second to last course was the cheese course, with a cut of truffle brie accompanied by toasted fruit bread. To complete our six-course indulgence was a Valrhona chocolate fondant with caramélia (milk chocolate with caramel tones) and honeycomb. I don't need to tell you that this was a decadent dessert and one that I had to work off in a workout the next morning!
Although I sometimes struggle with tasting menus, this ReBelle has no regrets working her way through Chef Luigi's creations. I will, however, only save it for those special occasions and opt for the a la carte menu next time!
Good To Know
There is a Ladies Night every Wednesday but for a place as classy as Galvin, an Oysters & Champagne event is more in line with the vibe. Right now, you can get a glass of bubbles and unlimited oysters every evening between 7PM and 8PM but if that was somehow combined with the Ladies Night concept, I would be there every Wednesday with friends and other #ReBelleBosses!
The restaurant has both indoor and outdoor seating, as well as sliding glass doors so even if you do decide to sit inside, you can still enjoy the open feeling.
For a #CaviarMoment
Make an afternoon or evening out of your time at City Walk and get in some shopping before settling down for a gorgeous supper and wine.
We have to give a proper shout-out to Chef Luigi for keeping it real. Galvin is a venue that feels exactly the way the family-run brand should – intimate, welcoming, and elegant.
Don't forget to read our Q&A with Chef Luigi Vespero!
Disclaimer: The Caviar Spoon was hosted by Galvin Dubai but all opinions expressed are our own.
Connect
The Square, City Walk, Dubai