Ekstedt: Cooking By Fire In Stockholm
26.04.2018 | Read
Meet Ekstedt
When hunting down Nordic chefs to meet during a trip to Stockholm, we came across Niklas Ekstedt – the former snowboarder who was sidelined by an injury before he got to go pro and (lucky for us!) ended up on the culinary path instead. Chef Niklas Ekstedt may still love any kind of board sport but today, he's best known for his TV shows and a restaurant that uses zero gas or electricity for cooking.
The chef's eponymous restaurant Ekstedt serves food cooked solely over and with fire – nothing more. We were intrigued and so off we flew to Stockholm for our third trip in five months. Can you tell the Nordics are fast becoming a part of the #caviarmoments agenda?
During our last trip to Stockholm, we were wowed by the work of Chef Magnus Ek of the acclaimed Oaxen Krog and Chef Frida Ronge of TAK, so we wanted to see what Chef Niklas Ekstedt would deliver. When we asked Hotel Skeppsholmen for some dining recommendations, they immediately replied with Ekstedt (whilst also mentioning Oaxen Krog and TAK so it felt like a triple whammy for us!)
We won't give you the full story here because there is a wonderful version on the restaurant's website that recants Chef Niklas's journey, from growing up in the little village of Järpen in northern Sweden to opening up Ekstedt in 2011, with just a fire pit, wood-fired oven, and wood stove for cooking. (But if you want to read our #caviarcuts Q&A with him, take a look here.)
What matters most is that Chef Niklas took a concept that many people said was too difficult to execute properly and proved otherwise. Ekstedt was awarded a Michelin star in 2013 and has consistently been listed in everything from the World's 50 Best Restaurants to the most essential restaurants to visit in Stockholm.
And so Pra bundled up (it was cold!) and found herself walking down an unassuming street in the neighbourhood of Östermalm, with the help of Google Maps (always a lifesaver!).
Style & Service
When I walked into Ekstedt, the hostess Emma greeted me with a big smile. Even though it was a Tuesday evening, the place was packed by the end of the night! In fact, before I go any further, I just have to say the team are awesome. After 20 years of consulting with businesses about recruiting, training, and branding, I can spot a fake smile a mile off, and unless I'm losing my touch, the team here really love what they do.
From Head Chef Rodrigo Perez to sommelier Gustav Johansson, everyone at Ekstedt was warm, welcoming, and more than happy to chat and answer all of the questions I peppered them with.
I had a seat at the Chef's Table, which basically gave me a front row seat to a theatrical event. Should you find yourself heading to Ekstedt, try by all methods to grab a spot here, whether or not you're dining solo. You'll be absolutely fixated on the dish preparation and seeing the fire pits in action. If you think there's only one way to cook with fire, the kitchen at Ekstedt will show you otherwise!
Be prepared with a backup battery for your phone because you'll end up completely mesmerised and taking video after video as you try to capture the kitchen in action. Oh, and if you ask Chef Rodrigo nicely, he may even show you behind the scenes in the kitchen.
Ekstedt's interior is a perfectly balanced mix of Scandinavian, industrial, and masculine. Metal grids line the open ceiling and copper metal sheets accent the walls, adding a warm, fire-like glow. In true Scandinavian style melded with a nod to the restaurant's wood fire concept, there's plenty of wood utilised, from the furnishings to the wine cellar cabinets. The chairs have leather backs strapped to the wooden frames in a way that resembles those leather log carriers you might find in a someone's country home.
Like the staff, the restaurant interior itself is inviting and far from pretentious. Despite it being a fine dining restaurant, it veers away from being too precious or sterile and instead, keeps it hip, buzzy, and effortlessly cool.
Nibble
I was in awe watching the kitchen guys deftly searing this and smoking that. Chef Niklas has more than proved the early naysayers by showing that haute cuisine made in a fire-only establishment has its place in the Stockholm culinary world.
Usually, even small-ish tasting menus get the better of me but the night I dined at Ekstedt, it was different. I ate the whole lot and dare I say, I felt comfortably full – not stuffed, but satiated. This was something that my seat neighbours restaurateur and chef Atsushi Tanaka of the acclaimed Restaurant A.T in Paris and his ex-chef Hendrik from Sweden, also noticed and agreed on with me. (These two chaps, by the way, were legends all evening and this could lead to another story, but that's for another time.)
There was a dish of pine smoked mussels, halibut and samphire, which was followed by seared langoustine with celeriac, which I could not stop raving about. This may have been my favourite dish of the night for its incredible depth of flavour. I nibbled my way through juniper-smoked cod with sunchoke (aka Jerusalem artichoke) and endive and then when the next course came, the kitchen had a bit of fun with Pra.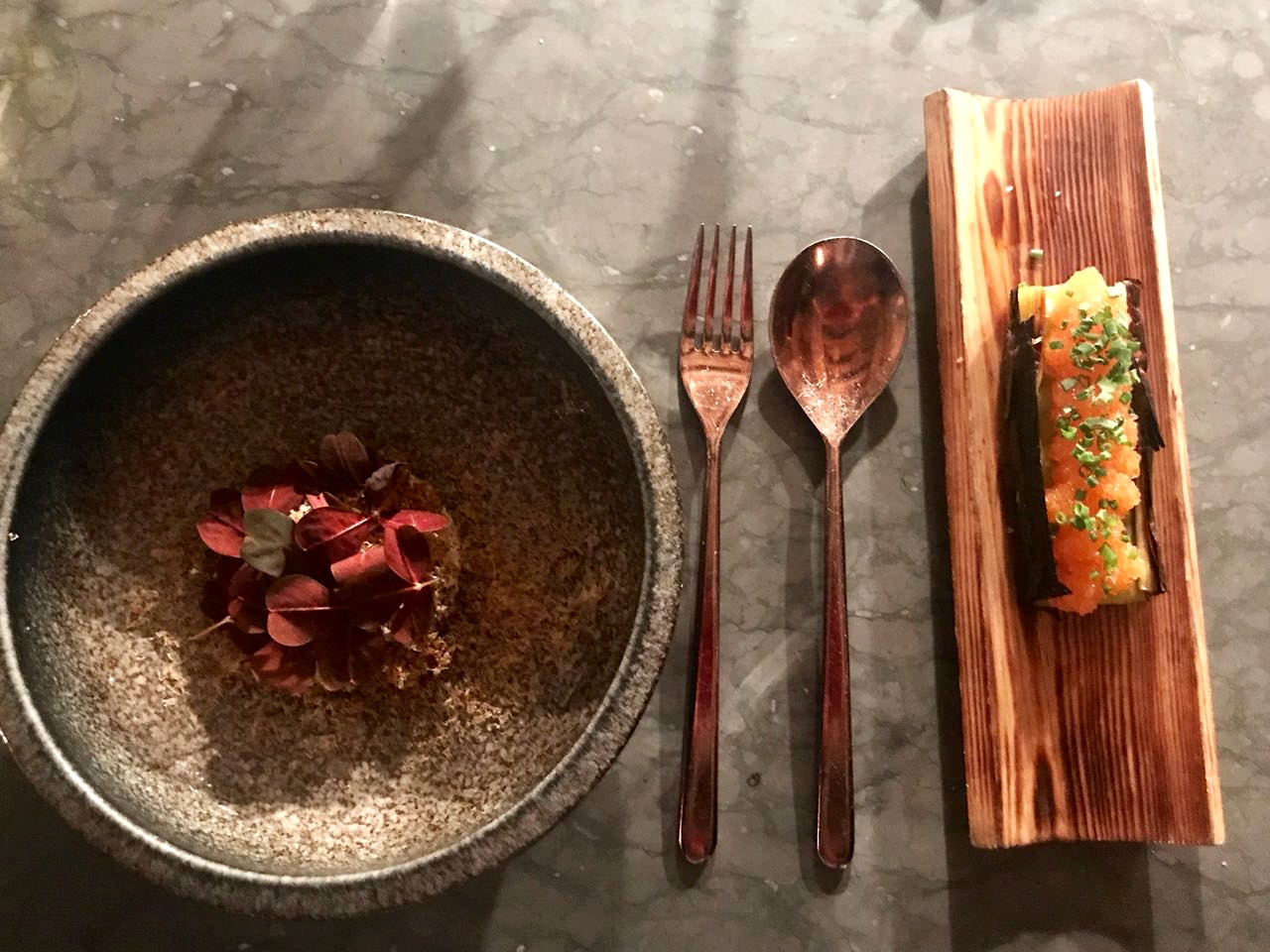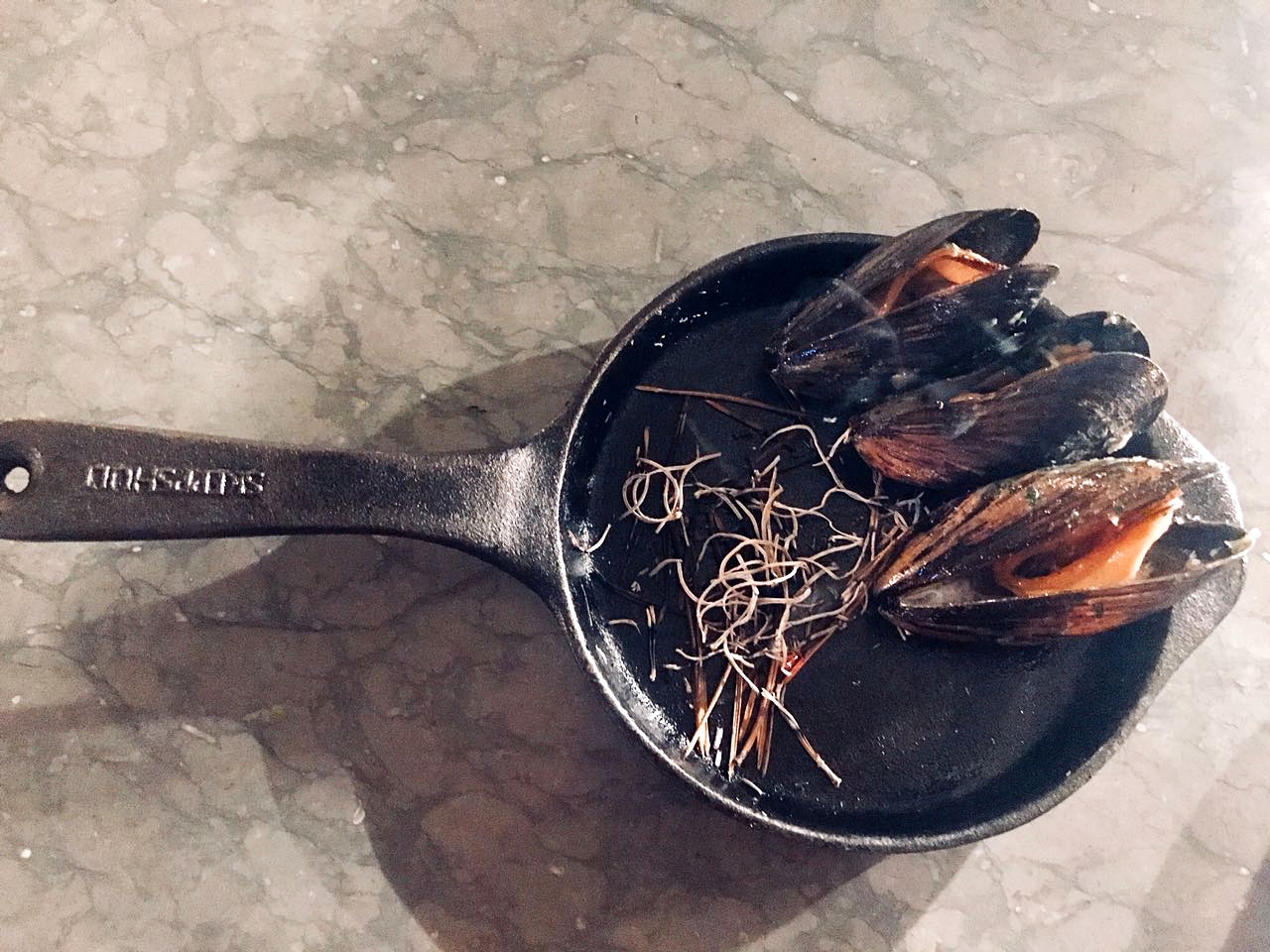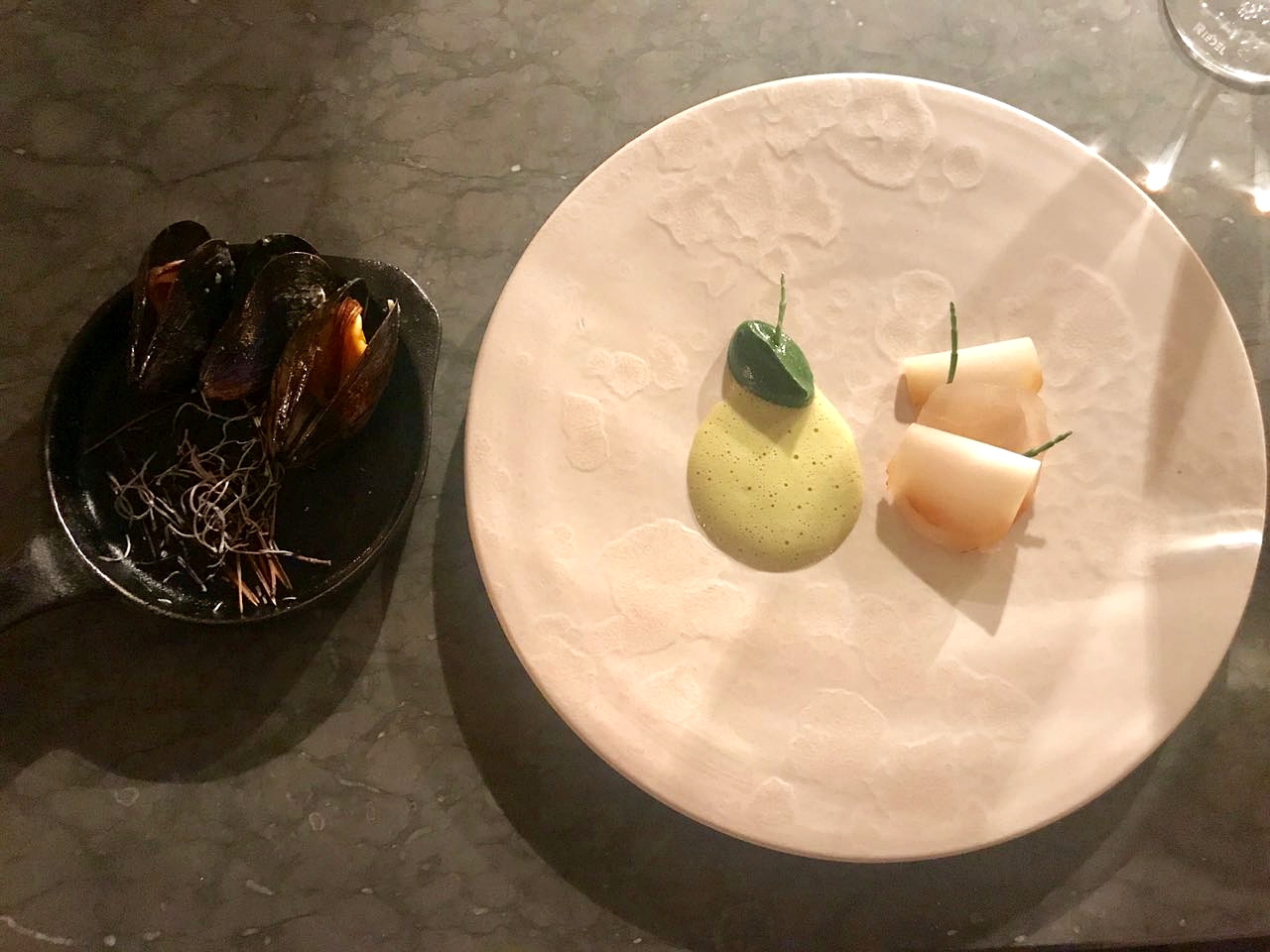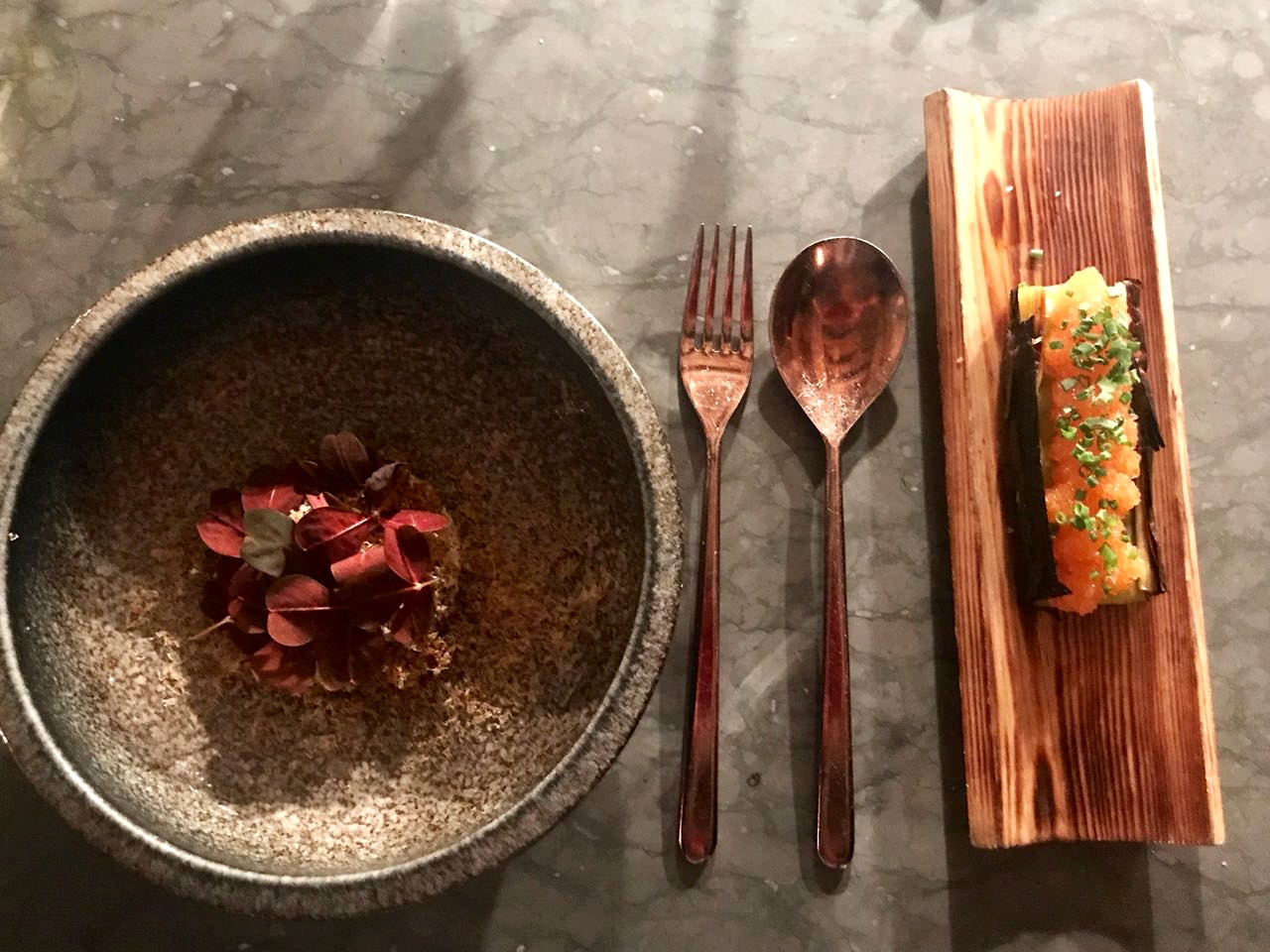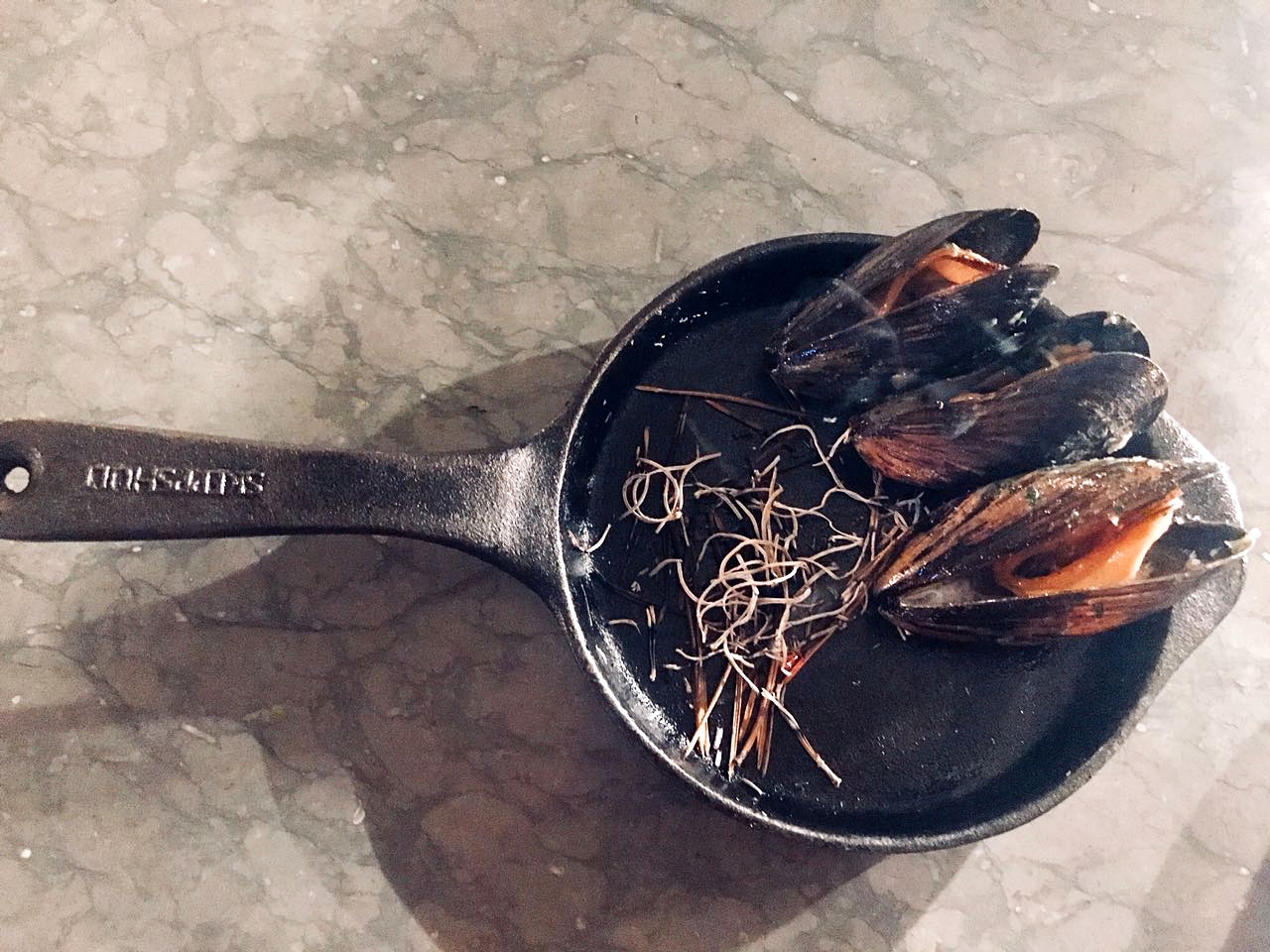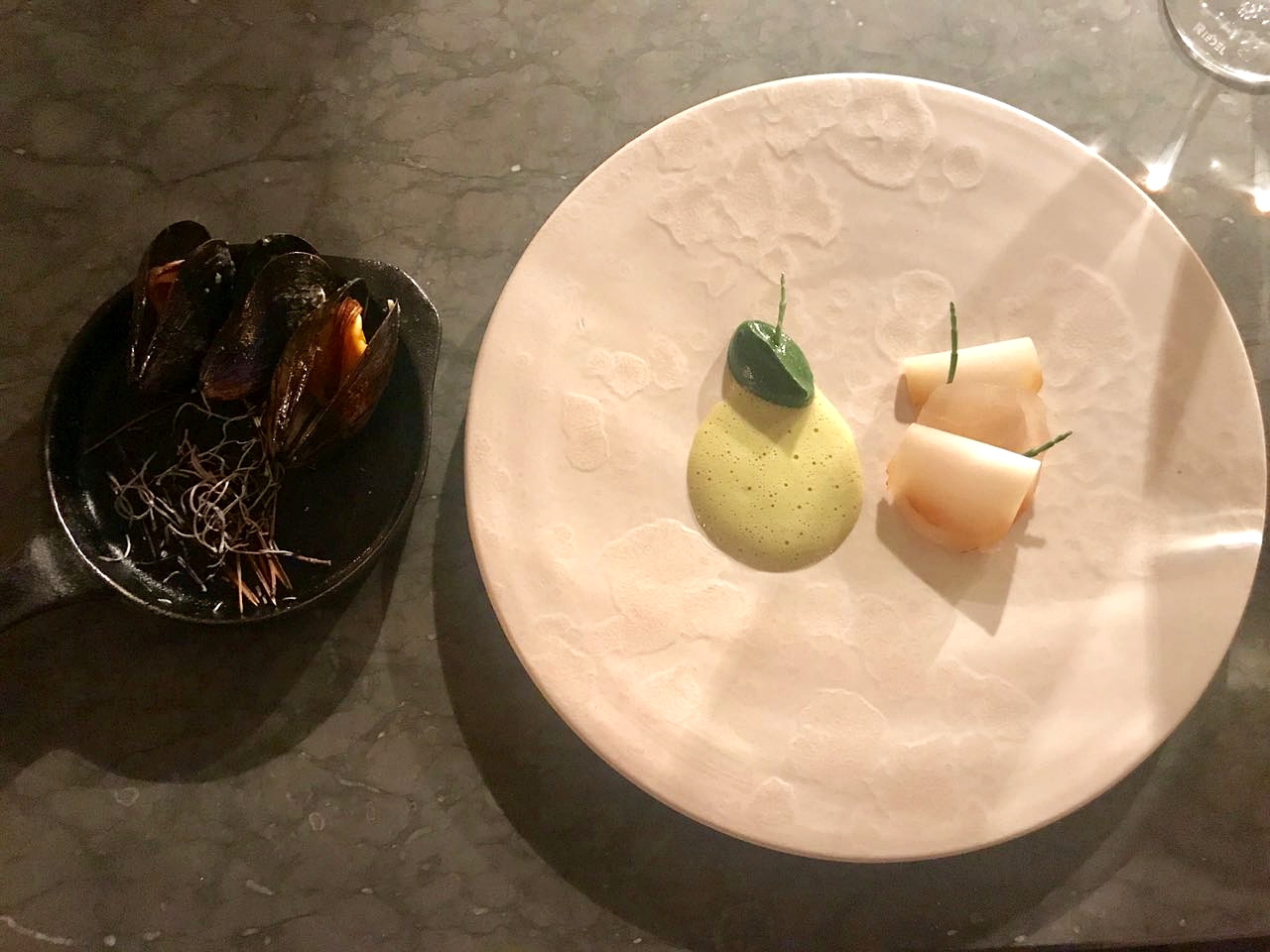 You see, before dinner that evening, Chef Rodrigo had asked if there were any dietary restrictions or dislikes that the kitchen should be aware of. We teasingly (but truthfully) said that the only thing that wouldn't pass Pra's lips was sweetbread. (Chef Scott Pickett once tried to convince me that it tastes like a juicy chicken nugget, as has Chef Greg Malouf, but it really does NOT!)
Well, wouldn't you know, one of the dishes on the tasting menu was hay-flamed mushrooms, sweetbread, and bone marrow. After waiting a beat just to tease me, the chef started laughing and said that they had replaced it with artichoke for me.
It was a lovely dish, made all the better (for me) by the fact that it wasn't sweetbread! I then had the last savoury course of birch-fired wild duck with fennel and lovage before reaching the very last dish to close out my meal – a wood-fired, oven-baked almond cake with pear and yeast.
It's hard to even begin to explain all of the tricks they do with the fire in the kitchen to create all of this uniquely different dishes and flavours. You have to be here to see it, smell it, and taste it because that's the only way you'll truly understand what Ekstedt is about.
Quaff
The sommelier Gustav Johansson oozes enthusiasm, but not in an insincere way. He doesn't make you feel ignorant or embarrassed about not knowing your grapes; instead, he encourages you to embrace the info he is sharing and gets you excited about new wines. I ended trying natural wine instead of sticking to the classics, all because of an introduction he made between me and my neighbours at the Chef's Table where I was seated.
There's an extensive and eclectic wine selection available, from the classic to the funky, and if you love trying new wines, go for it! Ask Gustav for his recommendations and I guarantee he won't lead you astray.
My only problem is that I had the world's most impressive hangover the next day due to some of that funky natural wine but that's no one's fault but my own. When in Stockholm and in good company, let the drinks flow!
Good To Know
Rather than head straight to the restaurant, pop into Tyge & Sessil first, the little sister to Ekstedt. This wine bar is fabulously simple in that it only serves wine – no beer or gin or "filler" drinks. Just lots of great wine and pretty cool people. This would be an ideal hangout spot if you want to catch up with some friends or if, like me, you have some time to kill before heading out to dinner.
For a #CaviarMoment:
Without a doubt, if you want a true #caviarmoment, grab a chef's table seat because you'll get to see the chefs as well as open up the opportunity to make some new friends with the people also seated there. Chef Rodrigo showed me the unique cooking process for one of their signature dishes – oysters cooked in beef fat – which was so interesting to see up close!
Niklas and Rodrigo, you guys truly have a gem of a place here! We travel far and wide and this is one dining experience that is engrained in my memory and which I will never forget.
Have a few more minutes and love getting to know chefs? Then don't forget to read our #caviarcuts interview with Chef Niklas!
Connect
Humlegårdsgatan 17, 114 46 Stockholm