Caviar Cuts SA: Chef Candice Philip of Grei
14.06.2018 | Read
Meet Chef Candice Philip of Grei
We love celebrating strong, successful women here at The Caviar Spoon, which is why we've created ReBelles. These are the women who are working it and owning it in life, work, and everything in between. Our newest #ReBelleBoss is Chef Candice Philip, who recently opened her own restaurant, Grei, in Johannesburg. We're also thrilled to feature her as our first woman chef and do a #rebelleboss x #caviarcuts hybrid interview!
When I saw the headlines earlier this year that Chef Luke Dale-Roberts was leaving The Saxon, two years after his pop-up restaurant became a permanent fixture at the luxury hotel in 2016, I wondered what would happen to the space. But this news was quickly followed by the exciting reveal that Chef Candice Philip (who has been at the Saxon for 13 years and worked with Chef Luke and Chef David Higgs during that time) would be taking over and opening her own restaurant.
I was, of course, over the moon to hear this since we at The Caviar Spoon ReBelle love interviewing two kinds of people – awesome chefs and awesome women doing super things. Chef Candice was the perfect mix of both and I immediately started making plans to snag a #rebelleboss x #caviarcuts interview with her.
And so, towards the end of April, Chef Candice's 32-seater fine-dining restaurant Grei gracefully opened its doors.
Grei is intimate and sophisticated, utilising a calming palette of grey tones and various textures to create what sounds like a delectably sexy, cosy space. Word is there are even feature walls with fur (!) and beading, along with textured tablecloths and carpets. As you dine, you'll also be treated to some lovely views as the restaurant is located upstairs and overlooks the trees and indigenous gardens on the hotel grounds.
I'll leave the full restaurant write-up for another time because 1) I haven't yet had the chance to visit and 2) I think it likely deserves its own piece where I can dedicate +/- 1500 words to drooling over the food and dining experience.
But based on what I've seen and heard so far, Grei is bound to be a delightful and unusual dining experience, especially since Chef Candice describes her approach to cooking as an "Alice in Wonderland" kind of scenario where she puts her own interpretation into dishes. She's highly skilled and well-respected in the industry, and has accumulated more than a few awards and honours along the way!
I can't wait to discover Chef Candice's menu for myself but in the meantime, get to know this fabulous chef below!
Q&A With Chef Candice
Please tell us about your career to date, including your career path in the 13 years at the Saxon.
I've always wanted to own my own restaurant – from as young as four or five years old. When I left school, I actually wanted to study interior design. Instead, I got an internship at Gallagher Convention Centre (in those days it was called Gallagher Estate) and then in 2005, I joined the Saxon. It's been a real journey over the last 13 years, and since joining the Saxon, I've been privileged to work alongside some of the country's best Chefs – including Chef David Higgs, Chef Luke Dale-Roberts, and Chef Rudi Liebenburg.
How long has Grei been in the making? Is the concept one that you've long desired to make a reality or did it only come about when the opportunity to open your own restaurant presented itself?
Following the successful run of LDRS [Luke Dale-Roberts x The Saxon], George Cohen (the GM at The Saxon) asked me what I'd like to do with the space, and I knew immediately. I've had the idea for Grei in my head for the last couple of years, but we actually only started 'building' Grei once LDRS came to an end. We worked with some incredible designers and suppliers to understand my vision and turn the space around in only 14 days. Fortunately, my chef team and I have worked together for a long time. We spent two weeks working in one of the other kitchens creating and perfecting the menu and dishes.
In your eyes, what does the Grei brand stand for – what's the USP?
Grei loosely translates from Portuguese as "a society of people", but as a colour, grey is colour without colour. This has been a huge inspiration in developing the look and feel of the space, and menu. It's a calm, neutral space which allows the smell, sight, colour, and the detail of the food to really 'pop'. It is an herbaceous journey – we're making the often-overlooked herbs the hero of our dishes to bring colour, aroma, and flavour to the dishes. As you move through the dishes, you also move through a bright colour palette.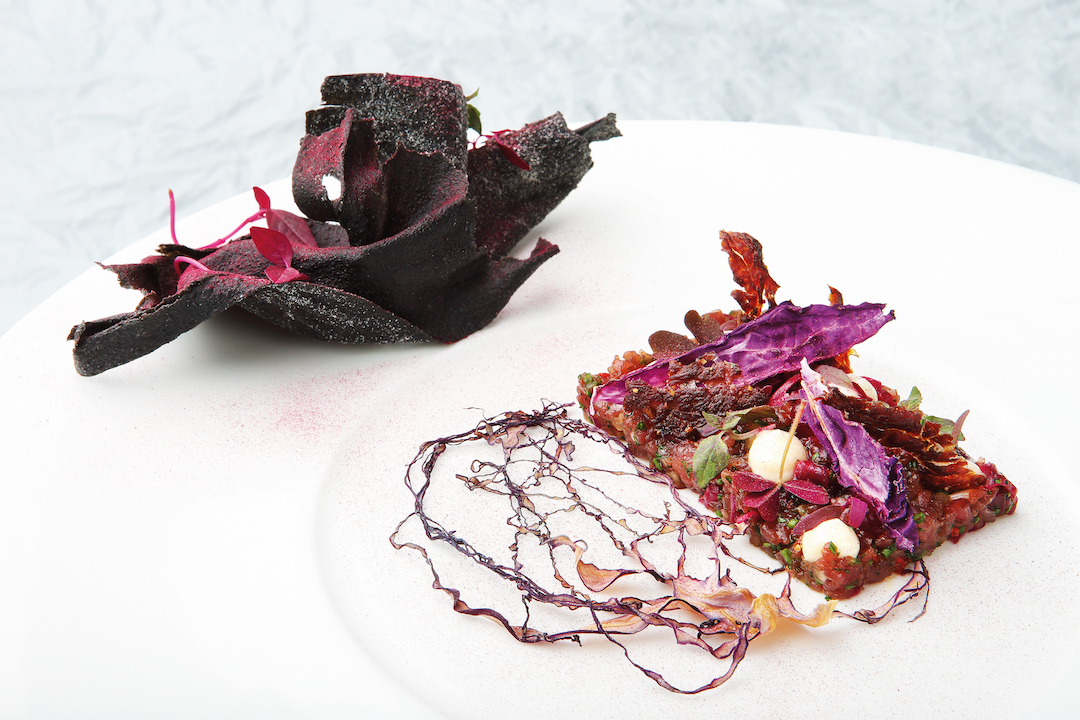 Who has inspired you the most in your journey and why?
I've often been asked who my mentor is, but I feel like I have been inspired by different people for different reasons along the way. There were people that I worked with as a trainee; I have worked with Chef David and Chef Luke; and I have been overseas to France, Norway, Germany, and Russia – I picked up different things from different people. They've all influenced me in some way.
The culinary world, in general, is still perceived as a male-dominated industry, especially when it comes to being a head or executive chef. What are your thoughts on this?
I think it is largely male-dominated, but there are a lot of strong female chefs coming to the fore. It's not always easy, but I don't think women should feel like they are on the backfoot. Just do what you do and do it well.
What's been the biggest reward to date as a chef?
Grei is definitely the pinnacle of my achievements to date, but there have been some incredible milestones, at different times, in the run up to Grei. Some of the moments that spring to mind are being a senior member of the South African National Culinary Team between 2007 – 2010, being a member of the Culinary Olympics team in 2008. Opening five hundred [at the Saxon Hotel] was also a huge reward, as was receiving the Design Indaba nomination for Design Indaba's Most Beautiful Object in South Africa.
And the biggest challenge?
I thought that opening a restaurant would be a huge challenge, but for the most part, I've been quite calm. Aside from Grei, I always find one of the biggest challenges to be the behind scenes nature of what we do. People often don't see the detail or how many steps have gone into making each plate of food. They don't know that we've been preparing since early in the morning and worked until the wee hours of the night before, but we still deliver a calm and seamless service – with a smile.
What do you do to get inspired?
Different things inspire me at different times, but I do find I am most inspired when I am outdoors. I love being outside in the garden, and I always get ideas here. I also love inventing things from new and unusual ingredients.
Visual presentation is often as important as taste. What do you keep in mind when deciding how to plate each dish?
At the moment, we're wanting the herbs and the colour to come across in each dish. Although not every single dish will be a different colour, we do want the most amount of colour on each plate. For me, visual presentation is a process, and it starts when I have worked with the flavours. As I develop the dish, I start to see the visual presentation in my mind. I often get a picture of how the dish should look based on flavours, but I also work with my team and their ideas.
Has there ever been a dish that you were really enthusiastic about but wasn't very well-received by guests?
I did do a dish once – it wasn't that it wasn't well-received by the guests, but they didn't really get it. It was a mussel dish, and the mussel shells were handmade and hand painted pastry – made to look like real mussel shells. Although the dish was entirely edible, and we explained to the guests that they could eat the shells, many didn't. The dish was gorgeous, but we just kept seeing all these beautiful pastry shells come back on the plates.
What advice would you give to women looking to succeed in the culinary world?
Just keep pushing. A lot of people give up after something goes wrong or they had a tough day. But, if you give up, then you'll never get anywhere. Toughen up and work hard. It's not always easy, but it's worth the effort. It's never personal, it's the situation.
What qualities do you look for in your staff?
I think being a team player is most important. My team has worked together for a long time and for the most part our working environment is calm. We're like a family – we get along, we work together and know what we all like and don't like. It's important for someone to fit into that, be strong and have a good work ethic, have a valuable contribution to give and be a loyal team member.
On your days off, where might we find you and what are you likely to be doing?
I spend a lot of time with my family and I like spending time outdoors.
What's your cooking style when you're off the clock? Any favourite dishes you like to prepare for family and friends?
I don't have much downtime, so I usually spend time with my family on my off days. My favourite dishes are my mom's version of bobotie, and when my dad does a braai with family and friends. It is nice to have a glass of wine and just catch up with everyone and hear what's been going on.
What's the best meal you've had in the world (apart from yours)?
When I went to London we went to a restaurant called Hibiscus. I had a salmon and eucalyptus dish with white beans…it was amazing and delicious, and I've never forgotten it.
What are some of your favourite restaurants in Johannesburg (or South Africa)?
Two of my favourite places, just because they are chilled, and the food is interesting, are Saigon Suzy and La Boqueria. For me, they are simple, nice places, with a good vibe. I also really like Sin & Tax – but they don't do food there!
When the going gets tough, you…
…head to the garden. There are not very many crazy or tough moments, but it is nice to have a few moments to myself and catch my breath. I also take time off twice a year and head to either Mozambique or the Drakensberg. No roads and no cellphone signal…the best!
What's your one piece of advice on how to achieve a good work/life balance?
It's hard, especially in this industry. Make sure your off days are your off days – it is the only time you get to yourself. I try not do to things on a Sunday or a Monday that has anything to do with work.
One woman in business who deserves a shout-out…And why?
Jackie Cameron, because of her dedication and the grounding that she gives to the young chefs coming into the industry.
Your motivational quote
There's a quote that says: "trust the process" (I don't know where it comes from or who said it first…). For me, it means: don't overthink or over-analyse… just go with it.
Your business mantra
I don't really have a mantra, but right now, just knowing that my Grei team and I are doing this for ourselves and getting to showcase what we can do – that's important.
Your life mantra
I love the traditional Japanese saying of wabi-sabi, which loosely means there is beauty in imperfection.
One word to describe you as a leader
Calm (for the most part!)
One word to describe your restaurant
Herbaceous. Or Grei! It's hard to choose one… simple, homely, comfortable…They're also words that come to mind.
Connect
The Saxon, 36 Saxon Road, Sandhurst 2196, Johannesburg