Bali in Johannesburg: Spa at Fairlawns
08.08.2018 | Read
Meet Fairlawns Spa
If you'd like to read about the full Fairlawns Boutique Hotel & Spa experience, click over to the article here. You can also read about the experience at the hotel's fine dining restaurant Amuse-Bouche here.
Who knew that a whirlwind not-quite-24-hour-stay at Fairlawns Boutique Hotel & Spa would be packed with so much indulgence that it would require multiple articles? I wasn't prepared to write this much but here we are!
It goes without saying that this luxury boutique hotel was one #caviarmoment after another and my stay there was all too short. Since I didn't want to skimp on details for the sake of word count, and the spa is preparing to expand (more details on that below!), I thought, why not give it its own spotlight?
The Spa at Fairlawns is described as being the only Balinese-style spa in Johannesburg. I'd be lying if I said that the promise of being able to meander through their bamboo-rich Balinese garden didn't sway me into putting the hotel at the top of my Johannesburg hit list.
Style & Sanctuary
The spa and gym are located around the corner of a separate building, across the lawn from the Manor House, and for a second, you'll wonder if you've come the wrong way. That is until you see the stone Buddhas and lion statues guarding the entrance.
A short corridor leads to the reception desk, a lounge area where you can help yourself to a table full of complimentary snacks and beverages, and the entrance to the gym. The only downside to this set up is that I could hear the gym activities as I sat waiting for my appointment, which breaks up that tranquil vibe a bit, but it is the common area so I can't fault them for that! (As a side note, the gym is open 24 hours for all of you super early birds and night owls.)
The changing rooms have lockers for your personal items, and each one is stocked with the spa's signature robes (which are thick and lined with a plush material), a pair of disposable slippers, and a bottle of water. There's also a jug of lemon water and some comfy seating if you just want to take a quiet breather before or after your treatment.
The indoor treatment area has five private rooms and feels wonderfully secluded, with just the sounds of trickling water filling in the hushed vibe.
Let's talk about the real feature here, though, and that's the Balinese garden mentioned earlier. As if Fairlawns isn't enough of an urban sanctuary, this little bamboo haven creates another layer of tranquility.
You can access this garden through the spa or from the main property by finding the narrow doorway in the wall behind the pool, à la "The Secret Garden".
A winding stone path leads the way through the trees, connecting the back of the spa building to the private couple/group treatment villas, with more water features in between (which were sadly empty when I was there but it looked like there was maintenance going on, in addition to the expansion work). The manicure and pedicure bar is in its own serene villa-like building at the other end of the garden.
It's not a huge garden by any means but it's enough to make you feel like you've escaped the city and entered a world of calm. If you're seeking a quiet nook where you can zen out for a bit, look for the Chinese day bed and pod swing chairs within the trees.
The Pampering
My treatment, a 30-minute Swedish/Balinese massage, took place in one of the indoor rooms, which had an unexpected red-purple mood lighting. The massage was administered by the skilled hands of Lucia, who has been at the spa for five years. She worked her magic, confirming in a quiet voice that she should concentrate on my upper back and shoulders, which I had requested on my intake form (sitting at a computer all day plus boxing wreaks havoc on the upper body!).
For the next half an hour, I melted into the table, grateful for the silence as Lucia smoothly worked the knots in my shoulders. At the end of the massage, she draped me with a warm, heavy towel that felt like a cosy cocoon and gently told me to take my time and to get up only when I felt ready.
The spa offers a wide range of treatments, from massages to hydrotherapy to mani-pedis when you need a mini-pamper session. There are a variety of signature treatments such as the Royal Bali Ritual and Romantic Sunset Retreat (for couples) and you can also indulge in facial treatments that use QMS Medicosmetics and Sothys products.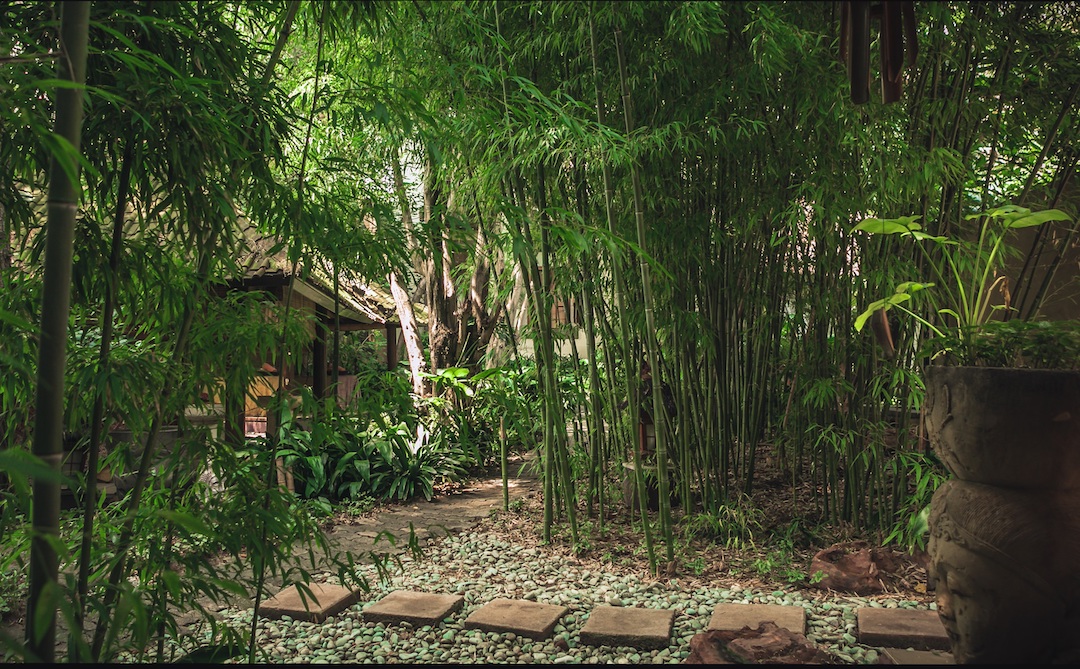 Q&A With The Spa Manager Corné Van Reenen
How long have you been with the spa? What inspired you to join the Fairlawns brand/team?
I have been with Fairlawns Spa for 3.5 years now. It was a wonderful opportunity with a completely different concept and a lot of potential to become part of.
What do you think sets Fairlawns Spa apart from the rest in a competitive market?
The Spa has a unique concept as a Balinese Spa, yet it is modern and designed in a way that you feel like you are the only guest here receiving all the attention you need.
What products/brands does the spa use, in addition to Clarins and QMS? (Are there local brands we should know about?)
We use QMS, Clarins, Sothys (French), and then we have a company that specifically makes body products for us and is unique to Fairlawns (bath milk, fizz balls, scrubs, butters).
Please tell us about your signature treatment and what makes it so amazing?
The Signature Balinese Body Treatment – a little piece of Bali in the middle of Sandton – is a 90-minute journey with a Full Body Bamboo Massage & Foot Ritual.
How many staff (therapists) are there and how do you select your team?
We are a team of 20 staff, including 13 therapists, each one fully qualified. Everyone is unique and excellent at what they do with a passion for therapy. I have had the same therapists now for 3 years, only adding to the team and nobody leaving.
It's easy enough to make a spa look nice but the therapists are the ones who make it. What do you do to ensure that brand values and standards are upheld consistently?
We work together as one team and have constant trainings and power hours booked to make sure that we stay on top of trends and to perfect our technique. Our guests' feedback is also vital for us to keep on improving our level of standard.
What is your favourite treatment to indulge in when you go to a spa?
I always explore different signatures unique to each spa and I love having any foot treatment or pedicure.
Finally, we had the opportunity to get a peek at the new spa area being developed. Can you give us some more details about what to expect (and when)? What are you most looking forward to?
We are hoping to open by spring this year. The new added area is an impressive 1.5 acres and will include an undercover heated hydro pool, rim flow Jacuzzi, Sento bath journey, Swiss shower, steam room, private dining sala, and relaxation lounges, to name a few. I personally cannot wait for the heated pool and for our guests to see the amazing new area that we have built for them.
Final Thoughts
I'll be honest – I'm not much of a spa person. I know it's a treat, and even a necessity, for many, but it's always seemed like an extravagant (to me) indulgence. Never mind that I'll happily fork over my hard-earned money for a degustation menu or a fab coat or handbag made by a local designer…! But I think I've joined the other side now. Having only had a massage, I can't vouch for the rest of the services but I've heard glowing praise from others. Besides, the Spa at Fairlawns, especially once they expand and upgrade, has such a Caviar setting and vibe that…well, there's a very good chance I'll be booking an indulgent pamper session. After all, doesn't every #rebelleboss deserve an escape to Bali for (at least) a few hours when we work so hard to leave our mark on the world?
---
Don't forget to read about Fairlawns Hotel (the suites are spectacular) and our interview with Chef Jandri Niemand of Amuse-Bouche, the hotel's award-winning fine dining restaurant.
Disclaimer: The Caviar Spoon ReBelle was hosted by Fairlawns Boutique Hotel but all opinions expressed are our own.
Connect
1 Alma Road, Morningside, Sandton, Johannesburg